Pakistani Taliban intermediary meets interior minister for talks
Islamabad: The second phase of the peace talks between the Pakistan government and the Tehreek-i-Taliban Pakistan (TTP) is likely to begin next week.The possible date and venue of the peace talks between the government and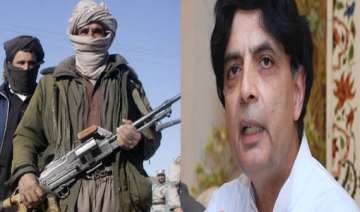 IANS
March 16, 2014 21:04 IST
Islamabad:
The second phase of the peace talks between the Pakistan government and the Tehreek-i-Taliban Pakistan (TTP) is likely to begin next week.
The possible date and venue of the peace talks between the government and the TTP were discussed at a meeting led by Maulana Samiul Haq with Pakistan Interior Minister Chaudhry Nisar Ali Khan Saturday, Dawn online reported Sunday.
The Taliban negotiators suggested the venue for the peace talks should be in Miranshah, North Waziristan, whereas the government suggested the Bannu Airport in Khyber Pakhtunkhwa province.
The Taliban informed the interior minister that they have also formed a committee of representatives that would meet with the new government committee to hold direct talks possibly in the coming week.
"They are trying to identify those violating the ceasefire and hold them accountable," Maulana Samiul Haq said.
Both the government and the Taliban are looking forward to positive results from the peace talks.