Search continues for missing Malaysian airliner
Kuala Lumpur: The whereabouts of a Beijing-bound Malaysia Airlines jetliner missing with 239 aboard since early Saturday are still unknown despite a round-the-clock search operation even as Malaysian authorities said Sunday the plane may have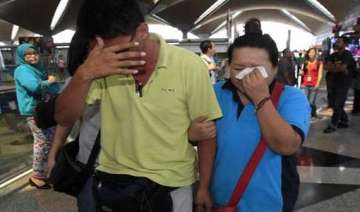 IANS
March 09, 2014 17:43 IST
Kuala Lumpur:
The whereabouts of a Beijing-bound Malaysia Airlines jetliner missing with 239 aboard since early Saturday are still unknown despite a round-the-clock search operation even as Malaysian authorities said Sunday the plane may have turned back before disappearing.
The aircraft vanished without a trace about an hour after taking off from Kuala Lumpur. Over a day since its last contact with the air controllers, there was no sign of the plane or its wreckage, Xinhua reported.
The Boeing 777-200ER was presumed to have crashed off the Vietnamese coast Saturday into the South China Sea.
In a twist to the entire episode, Malaysian authorities are investigating two passengers who had used false passports to board the plane, Azharuddin Abdul Rahman, director general of the Department of Civil Aviation of Malaysia, told the media earlier Sunday.
Two people, an Italian and an Austrian, whose names were on the passengers list, reportedly did not board the aircraft and both had lost their passports, Xinhua quoted Rahman as saying.