Malaysian Missing plane mystery: Suspected debris may have sunk says Australia
Kuala Lumpur: Suspected floating debris of the Malaysian jet may have sunk in a remote part of southern Indian Ocean as a multination team failed to spot them, dashing hopes of a breakthrough in locating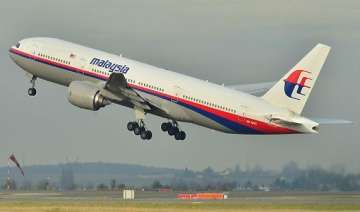 PTI
March 21, 2014 18:15 IST
Kuala Lumpur:
Suspected floating debris of the Malaysian jet may have sunk in a remote part of southern Indian Ocean as a multination team failed to spot them, dashing hopes of a breakthrough in locating the aircraft which mysteriously disappeared two weeks ago.  
Five surveillance aircraft and a ship deployed to trace the Malaysia Airlines Flight MH370 with 239 people on board after two large objects were seen in satellite imagery nearly 2,500 kilometres southwest of Perth, scoured the area but found nothing.
"It's about the most inaccessible spot that you can imagine on the face of the earth, but if there is anything down there, we will find it," Australian Prime Minister Tony Abbott said in Papua New Guinea, where he is on a visit.  
"Now it could just be a container that's fallen off a ship. We just don't know, but we owe it to the families, and the friends and the loved ones to do everything we can to try to resolve what is as yet an extraordinary riddle," he said.  
The Beijing-bound Boeing 777-200 went missing on March 8 off the Malaysian coast with 239 people on board, including five Indians and one Indian-Canadian.