Thailand government lifts emergency
Bangkok: Thai Prime Minister Yingluck Shinawatra today lifted a nearly two-month-old emergency in Bangkok and surrounding areas and replaced it with a security law after political violence against her government eased.  The Cabinet lifted the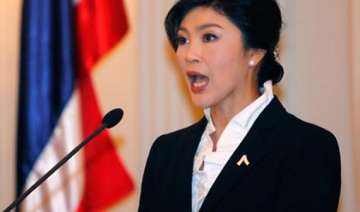 PTI
March 18, 2014 15:58 IST
Bangkok:
Thai Prime Minister Yingluck Shinawatra today lifted a nearly two-month-old emergency in Bangkok and surrounding areas and replaced it with a security law after political violence against her government eased.  
The Cabinet lifted the state of emergency and enforced the Internal Security Act (ISA).
Department of Special Investigation Chief Tarit Pengdith, a member of the Centre for Maintaining Peace and Order, said the ISA enforcement will continue till April 30.  For the past few months the CMPO, formed by the Yingluck government, had been handling the protests.  
On January 22, the Shinawatra-led caretaker government imposed a state of emergency for 60 days to quell protests.  The emergency was due to expire on March 22.  
The emergency had expanded the power of security forces to issue orders and search, arrest and detain people.  
Tarit said the caretaker prime minister and defence minister Yingluck will have to set up a new agency to replace the CMPO to enforce the ISA to maintain security.