Thailand holds polls smoothly in opposition strongholds
Bangkok: People today voted peacefully in five Thai provinces where opposition protests had blocked balloting during snap polls last month, the first step to complete a controversial election that could pave the way for the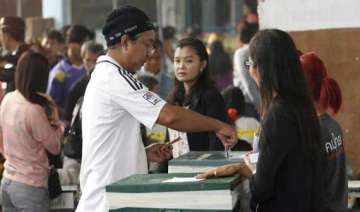 PTI
March 02, 2014 17:10 IST
Bangkok:
People today voted peacefully in five Thai provinces where opposition protests had blocked balloting during snap polls last month, the first step to complete a controversial election that could pave the way for the formation of a new government.
No violence was reported during the voting and the Election Commission said the polling was "peaceful".  
Around 120,000 people were registered to vote across over 100 constituencies in the five provinces, it said.  
Reports said voter turnout was only around 10 per cent.  
Violence had erupted in Bangkok and other parts of the country ahead and during the February 2 snap polls, boycotted by main opposition Democrat Party demanding the ouster of Prime Minister Yingluck Shinawatra.
Opposition-backed protesters had blocked polling in several opposition stronghold provinces and in some parts of Bangkok on February 2 and during advance polling on January 26.
Thailand has been in a political crisis since mass rallies began in November.