US first lady meets Chinese president Xi and wife
Beijing: U.S. first lady Michelle Obama met with Chinese President Xi Jinping on Friday, the first day of her weeklong China visit, in a sign that the leaders of the world's two largest economies are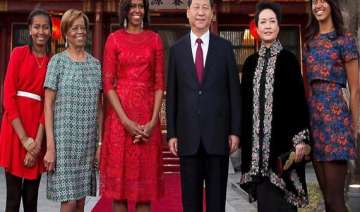 India TV News Desk
March 22, 2014 0:08 IST
Beijing:
U.S. first lady Michelle Obama met with Chinese President Xi Jinping on Friday, the first day of her weeklong China visit, in a sign that the leaders of the world's two largest economies are seeking to build stronger bonds.
The formal meeting between Xi and Mrs. Obama, in the company of Xi's wife Peng Liyuan and the first lady's daughters and mother, took place in a state guesthouse after Mrs. Obama toured a Beijing high school and the former Imperial Palace with her host Peng.
"I cherish my sound working relationship and personal friendship I already established with your husband," Xi said. "We stay in close touch between phone conversations and correspondence."
Mrs. Obama thanked Xi for the warm reception for herself and her family. "We have had a wonderful first day here in China," she told Xi.
The meeting was not on the first lady's official itinerary but was expected. "It is only logical for President Xi to meet her, because it is a matter of etiquette for the head of the household to meet the guest of his wife," said Teng Jianqun, director of the American studies department at China Institute of International Studies.
He added that Mrs. Obama likely served as a messenger on behalf of President Barack Obama.