New data signals Mars may hold liquid water
London: Mars may have liquid water close to its surface, according to new data from Nasa's Curiosity rover which raises the chance of finding life on the red planet.Researchers have long known that there was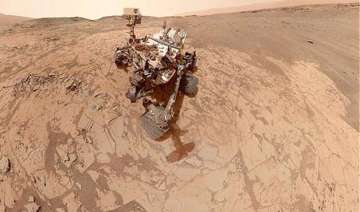 PTI
April 15, 2015 8:46 IST
London: Mars may have liquid water close to its surface, according to new data from Nasa's Curiosity rover which raises the chance of finding life on the red planet.
Researchers have long known that there was water in the form of ice on Mars. Now, new research on data from Curiosity shows that it is possible that there is liquid water close to the surface of Mars.
The explanation is that the substance perchlorate has been found in the soil, which lowers the freezing point so the water does not freeze into ice, but is liquid and present in very salty salt water — a brine. "We have discovered the substance calcium perchlorate in the soil and, under the right conditions, it absorbs water vapour from the atmosphere," said Morten Bo Madsen, associate professor and head of the Mars Group at the Niels Bohr Institute at the University of Copenhagen.
"Our measurements from the Curiosity rover's weather monitoring station show that these conditions exist at night and just after sunrise in the winter. Based on measurements of humidity and the temperature at a height of 1.6 metres and at the surface of the planet, we can estimate the amount of water that is absorbed," said Madsen.
He said when night falls, some of the water vapour in the atmosphere condenses on the planet surface as frost, but calcium perchlorate is very absorbent and it forms a brine with the water, so the freezing point is lowered and the frost can turn into a liquid.