Modi has 'Naav Pe Charcha' with French President
Paris: Prime Minister Narendra Modi and French President Francois Hollande today enjoyed a joint boat cruise on La Seine river here which was described as "Naav Pe Charcha" (chat on the boat).Hollande was seen giving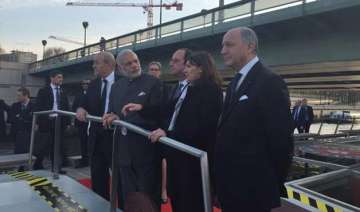 PTI
10 Apr 2015, 23:33:45 PM IST
Paris: Prime Minister Narendra Modi and French President Francois Hollande today enjoyed a joint boat cruise on La Seine river here which was described as "Naav Pe Charcha" (chat on the boat).
Hollande was seen giving details to Modi about various areas as the boat cruised through the river.
Many people enjoying a boat ride in the river at that time were seen waving at the dignitaries, including French ministers.
The two leaders had the boat ride after their detailed discussions, focusing on cooperation in the areas of civil nuclear energy, defence, space and trade.
Modi is visiting France in the first leg of his nine-day three-nation tour that will take him to Germany and Canada also.
It was the first time that Modi had 'Naav Pe Charcha' with any world leader.
Earlier, Modi has had 'Chai Pe Charcha' (chat over tea) with some world leaders, including US President Barack Obama during his visit to New Delhi in January and Japanese Prime Minister Shinzo Abe during the Indian leader's visit to that
country last year.
The concept of 'Chai Pe Charcha' came to be known during Modi's campaign for Lok Sabha polls last year. During that, he used 'Chai Pe Charcha' as an election plank.