Canada will provide us uranium, India will work towards providing clean energy: PM Modi
New Delhi: Prime Minister Narendra Modi addressed the Indian Diaspora in Toronto's Ricoh Coliseum today. This is the last leg of Modi's three nation tour, which included France and Germany.The PM started his speech with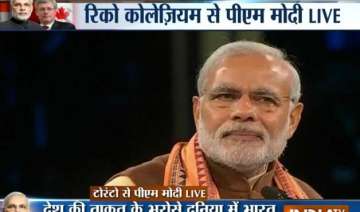 India TV News Desk
April 16, 2015 16:05 IST
New Delhi: Prime Minister Narendra Modi addressed the Indian Diaspora in Toronto's Ricoh Coliseum today. This is the last leg of Modi's three nation tour, which included France and Germany.
The PM started his speech with "Kem cho" and spilled his charm over Indians presented in the auditorium.
Modi was given a ceremonial welcome earlier in Canada's capital Ottawa.
It is worth a mention that ahead of Prime Minister Narendra Modi's addressal, the Canadian PM Stephen Harper announced visa-on arrival for Indians citizen.
Here are the higlights of PM Modi's speech:
1) When back home we hear stories about the achievements of Indians abroad, we feel proud.
2) Have old relations with this city (Toronto), I had come when I was nothing. But now I come with a responsibility. I say proudly that Canada is that nation which has been the partner country of Gujarat since 2003. India Plus Canada, you all can imagine what a great power we can be in the world. My experience of working with Canada has always been very good right from when I was the CM in Gujarat.
3) 10 months back Govt changed, now I can say public ethos has changed. There was a song"kitna badal gaya insaan", and now I say "kitna acha badala hain. President Kalam used to talk about a "positive column" in newspapers, today it is finally happening.
 4) What do you think is the biggest treasure India has, that no one in the world has? It is our youth population.80 crore youth population, 80 crore dreams, 160 crore strong hands. What can we not achieve?.In all developed nations, ageing is happening fast. When they need young workforce, by 2030, they will look towards India. AIM, Atal Innovation Mission is a program we have developed to take the youth ahead.
5) Earlier India used to be known as "Scam India", we want to make it "Scheme India". We dont want to be "job seekers", we want to be "job creators". Thats what we aim to do with skill development.
6) Until dignity of labor is cultivated in our nature we won't be able to deliver what world expects.We reached Mars on a cost less than what it takes to make a Hollywood film.
 7) All natural resources India needs can be provided by Canada. No one wanted to give us nuclear reactors, thinking what if we make bombs? Ironically people who make bombs are not stopped. Now Canada will provide us with uranium and we shall work towards providing clean energy.