#NepalDevastated: Barack Obama calls Sushil Koirala, expresses condolences
Kathmandu: US President Barack Obama expressed grief and condolence over the Nepal quake victims during a telephone conversation with Prime Minister Sushil Koirala, a statement said here on Wednesday."I am with the people of Nepal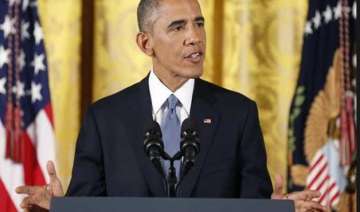 IANS
April 30, 2015 8:48 IST
Kathmandu: US President Barack Obama expressed grief and condolence over the Nepal quake victims during a telephone conversation with Prime Minister Sushil Koirala, a statement said here on Wednesday.
"I am with the people of Nepal and the government at this great tragedy," the US president told Koirala, according to a Xinhua news agency report which cited the statement from the Prime Minister's Office.
Obama's condolence came after the US government pledged to provide $19 million in aid to the Himalayan nation.
The earthquake on April 25 has claimed over 5,200 lives and left at least 10,000 others injured.
Maldives President Abdulla Yameen also telephoned Koirala on Wednesday to convey his condolences.