#NepalDevastated: Death toll crosses 4300-mark, massive hunt for survivors on
Kathmandu: A Nepal police official said that at least 4,352 bodies have so far been recovered after last week's massive earthquake that struck just outside of capital Kathmandu.Home Ministry spokesman Laxmi Prasad Dhakal said that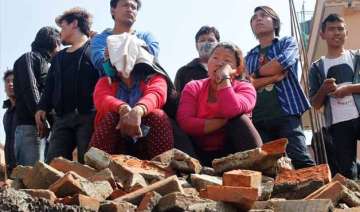 India TV News Desk
April 28, 2015 13:36 IST
Kathmandu: A Nepal police official said that at least 4,352 bodies have so far been recovered after last week's massive earthquake that struck just outside of capital Kathmandu.
Home Ministry spokesman Laxmi Prasad Dhakal said that 7,953 people are now known to have been injured in the quake.
Deputy Inspector General of Police Komal Singh Bam said that toll includes 1,176 bodies recovered in Sindhupalchuk district, just northeast of the capital.
Another 18 people were also killed in a quake-triggered avalanche that swept the Mount Everest base camp.
In neighbouring India 73 people were killed and China's official Xinhua News Agency reported 25 dead in Tibet.
A local seismologist here said that major aftershocks are now unlikely to occur as the 72-hour mark.
Lok Bijaya Adhikari, chief of Nepal's National Seismological Center, said the number and strength of aftershocks have been receding. There have been more than 100 aftershocks since Saturday's magnitude 7.8 temblor that left more than 4,000 people confirmed dead so far. The largest of these was magnitude 6.7 on Sunday.
The ground shook Tuesday morning at 5 am but measured only magnitude 4.5.
Small aftershocks to continue
Smaller aftershocks are expected to continue for a month and Kathmandu residents could continue to feel tremors because the epicenter is close to the city.
Health workers fear a major health crisis among the survivors of massive earthquake who are living in the open or in crowded tents with no access to sanitation or clean water.
Baburam Marasini, director of Nepal's Epidemiology and Disease Control Division, said their main concern is making sure people get clean water. "We fear diseases," he said.
He said the department is asking people to take precautions such as eating with a clean spoon and not with their hands as most people here normally do.
People are also being asked to drink clean water. Attempts are also being made to reach rural areas quickly where a clear picture of the death toll - now more than 4,000 - is still not available.
A government official said that business owners are being asked to open their shops amid anxiety among locals about dwindling food and medical supplies in the wake of earthquake.
According to Naindra Prasad Upadhaya, an official at the Commerce and Supplies Ministry, the government has made arrangements to pick up food and supplies directly from factories and distribute them free in areas where necessary.
"Water has been the big issue. There will be more tankers bringing water to the areas where people are camped out in Kathmandu and surrounding areas," he said.
Food will also be sent to the rural areas on helicopters, he added.