#NepalDevastated: PM Koirala says rescue operations not effective
Kathmandu: Nepal Prime Minister Sushil Koirala today said that the rescue, relief and search operations have not been effective.Post-quake management is challenging, Koirala said in an all-party meeting organised yesterday by Constituent Assembly Chairman Subas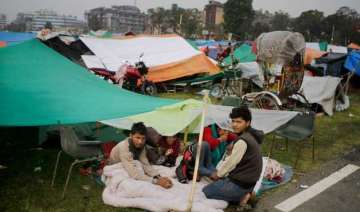 India TV News Desk
April 28, 2015 11:09 IST
Kathmandu: Nepal Prime Minister Sushil Koirala today said that the rescue, relief and search operations have not been effective.
Post-quake management is challenging, Koirala said in an all-party meeting organised yesterday by Constituent Assembly Chairman Subas Nembang.
The government is receiving requests from across the country for help, he was quoted as saying by 'My Republica'. It had been unable to extend rescue efforts to several places due to a crunch of logistics and experts.
Crisis loomed over quake-hit Nepal with an acute shortage of food, water, electricity and medicines as fear of another quake kept tens of thousands of people out into the open.
The Prime Minister said the government was serious and sensitive about relief distribution and rehabilitation of the affected people.
The government was preparing to send tents, water, medicine, health workers and volunteers to the affected areas. The Premier also appealed to the people to donate blood.
The quake that flattened homes and buildings and the subsequent powerful aftershocks have forced people out to live in the open under plastic tents, barely shielding them from cold and rains that have pounded the city.
At least 4,352 bodies have so far been recovered after 7.9 magnitude quake struck just outside of capital Kathmandu.
Hundreds of people are still trapped under tonnes of rubble in the capital Kathmandu and some of the worst-affected remote mountainous areas amid concerns that toll could cross 10,000-mark.