I drank my urine to survive: Nepal quake survivor tells his unforgettable story
A man pulled from the rubble of a collapsed building in Kathmandu more than three days after the deadly Nepal earthquake says he drank his own urine to survive.Rishi Khanal tells The Associated Press that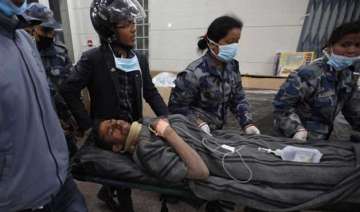 India TV News Desk
April 29, 2015 14:15 IST
A man pulled from the rubble of a collapsed building in Kathmandu more than three days after the deadly Nepal earthquake says he drank his own urine to survive.
Rishi Khanal tells The Associated Press that he had given up all hope of rescue as his lips cracked and his nails turned white. There were dead bodies around him and a terrible smell. But he kept banging on the rubble all around him and eventually this brought a French rescue team that extracted him after an operation lasting many hours.
He's now being treated for leg injuries at a hospital in the capital the day after French rescuers found him and brought him out from a collapsed hotel. He had been buried for 82 hours.
Police in Nepal say the death toll from Saturday's earthquake has topped 5,000.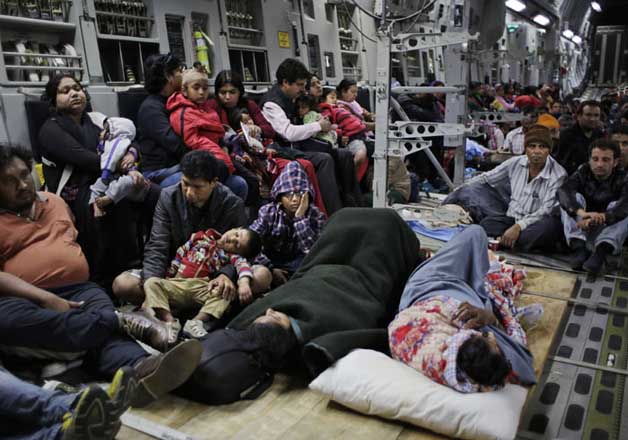 The Kathmandu police say 4,989 have died and another 10,260 people have been injured in Nepal.
The quake that was centered just outside Kathmandu also triggered an avalanche that killed at least 18 people at the Everest base camp.
Another 61 were killed in neighboring India and Bangladesh, and China's official Xinhua News Agency reported 25 dead in Tibet.
The first aid shipments have reached Dhading district, close to the epicenter of the devastating earthquake in Nepal.
U.N. food agency emergency officer Geoff Pinnock says the distribution in remote quake-hit villages will start Wednesday, but cautions it would take time.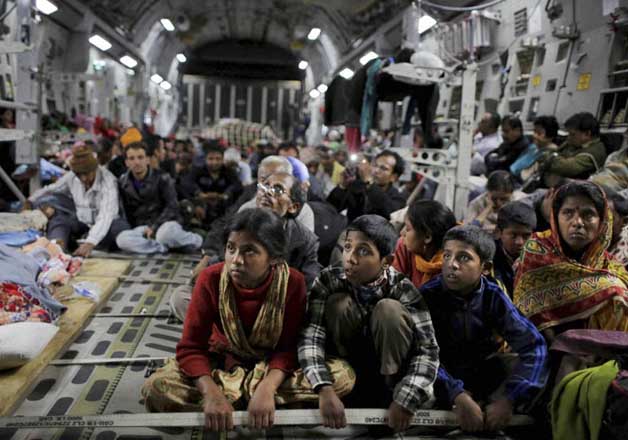 "Remember Katrina. It doesn't happen overnight," he said.
In Gorkha, the neighboring district to the west, five cargo trucks filled with rice, cooking oil and sugar stood on a grassy field in Majuwa village waiting for a helicopter from Kathmandu to take the supplies to the hardest-hit areas of that district.
The World Food Program also expects the delivery of high-energy biscuits, which will be send out to areas without enough water for cooking.
Britain in sending additional 30 medics to treat the injured and heavy lifting equipment to move aid supplies off aircraft and ease congestion at Kathmandu airport.
International Development Secretary Justine Greening says the additional support brings the total U.K. response to the earthquake to 15 million pounds ($23 million).
Thousands of people are lining up at bus stations in Kathmandu where the government is providing free transportation for people hoping to travel to their hometowns and villages. The government has even deployed school buses to supplement the overstretched service.
Many of the people from other districts who work in the capital have received little news of their families and loved ones since Saturday's magnitude 7.8 temblor, which killed more than 4,700 people and devastated the infrastructure including communication lines.
Others are simply scared of staying on so close to the quake's epicenter.
"I am hoping to get on a bus, any bus heading out of Kathmandu. I am too scared to be staying in Kathmandu. The house near my rented apartment collapsed. It was horrible. I have not gone indoors in many days. I would rather leave than a live life of fear in Kathmandu," said Raja Gurung, who was leaving for his home in the mountains of west Nepal.
Suresh Sah, a construction worker from southern Nepal, said that when the quake hit, "the first thing I thought about was my son back in the village. I have been trying to leave but there was no bus available. I just want to hold my family."