New Cabinet Named By Egypt PM
Cairo, Dec 8 : A new 30-member Egyptian cabinet under caretaker premier with greater powers to tackle the crisis in the country was sworn in on Wednesday , amid major gains by the Islamist parties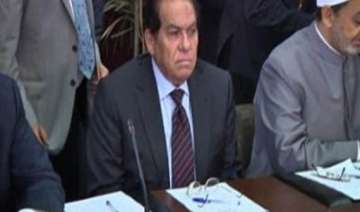 India TV News Desk
08 Dec 2011, 8:33:20 AM IST
Cairo, Dec 8 : A new 30-member Egyptian cabinet under caretaker premier with greater powers to tackle the crisis in the country was sworn in on Wednesday , amid major gains by the Islamist parties in the country's parliamentary polls. 

The national salvation government, headed by 79-year-old Kamal al-Ganzuri was sworn in, with Supreme Council of Armed Forces granting the new prime minister greater powers except over the military and judiciary.

Al-Ganzuri sought the support of all Egyptians as the country was faced with a difficult situation.  Al-Ganzuri announced the new cabinet following nearly two weeks of delays, reportedly due to problems in get a suitable candidate for the highly sensitive interior ministry post. 
Mohammed Ibrahim Yusuf, who headed police in the district of Giza in Cairo, was sworn in along with his colleagues by Field Marshal Hussein Tantawi, the chief of Egypt's ruling Supreme Council of Armed Forces.

Concurrently, SCAF issued a decree to amend the constitutional declaration and grant the prime minister full competences over the executive bodies except the army and the judiciary.

Security forces have been slammed for the brutal crackdown on protests against Tantawi in which 43 people have been killed.

Meanwhile, Al-Ganzuri began talks to end the sit-in in front of the cabinet headquarters which was in protest against his appointment.

Newly-appointed Interior Minister said that he will give top priority to establish security and stability in the country.

Mohammed Kamel Amr was retained as the foreign minister along with 12 others from the previous cabinet which quit amid escalating protests.

In exclusive statements to MENA news agency, he said that he will exert strenuous efforts to restructure Egypt's police force to meet the aspirations of the Egyptian people.

Islamists have made the major gains in the first round of parliamentary elections.