Nine Killed In Violence In Northern Nigeria Cities
Abuja, Apr 5: At least nine people were killed in Nigeria in separate incidents sparked by violence by members of radical Islamist militants who have been involved in a wave of attacks in the country.In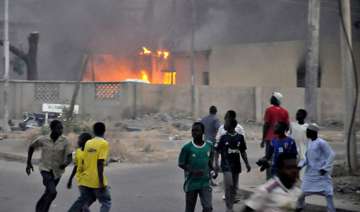 PTI
April 05, 2012 6:42 IST
Abuja, Apr 5:
At least nine people were killed in Nigeria in separate incidents sparked by violence by members of radical Islamist militants who have been involved in a wave of attacks in the country.
In two separate attacks in the last 48-hours, members of Boko Haram group killed the spare parts trader from the Igbo ethnic group in Maiduguri city in northern Borno state.
Later, they killed three persons the following day.  
Soldiers were alerted to the killings, which led to the pursuit of the suspects and subsequent exchange of gunfire and killing of an unidentified person, said Lt. Col. Sagir Musa, the spokesman for the military.
In northern city of Kano, Boko Haram members attacked a police station on Tuesday night.
In a subseqent shootout, four members of the sect were gunned down within the city the same day.
The radical is waging a bloody war against the governemnt to seek the enforcement of strict Shariah law and the release of all its detained members.
A suicide bomb attack by the group at the United Nations headquarters in Abuja in July last year killed 26 persons. 
The group has also bombed churches and attacked mosques in the 150-million nation that has both Muslim and Christian population, with Muslims predominant in the north while Christians mostly living in the South.