No Let Up In Nigeria Violence, Toll 185
Abuja, Jan 24: There was no let up in violence in Nigeria today as the toll from the last week's multiple bombings and gun attacks by radical Islamists in the northern city of Kano touched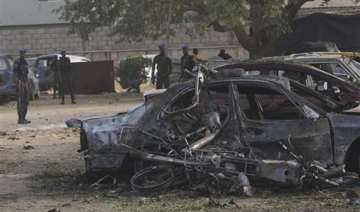 India TV News Desk
January 24, 2012 20:24 IST
Abuja, Jan 24: There was no let up in violence in Nigeria today as the toll from the last week's multiple bombings and gun attacks by radical Islamists in the northern city of Kano touched 185, including an Indian national from Gujarat.

At least 15 explosions were heard today from an area where there is police station, residents said, adding that the explosions were followed by gunshots.

A night time curfew remains in place even as the police launched a massive search operation for members of Boko Haram Islamic sect that claimed responsibility for the wave of attacks on Friday.

In one incident, residents accused the police of shooting dead a person just because he had a beard normally associated with devout Muslims. The man was identified as a former federal education worker.

The death toll now stands at 185 though medical and humanitarian workers say the number may increase as more bodies were brought into hospital mortuaries. Reports quoting hospital workers yesterday had said the toll had touched 250.

Kevalkumar Kalidas Rajput from Dahod in Gujarat, who worked for Kano-based firm M/s Relchem, was among those killed in Friday's deadly attacks.

Authorities said militants, some of whom came as suicide bombers, targeted four police stations, the headquarters of the country's secret police, state security service (SSS) in Kano state and an immigration office.

Meanwhile, the police provided a breakdown of people killed in the attacks which included 150 civilians, 29 officers of the police, three members of the SSS, two officers of the Nigerian immigrations' service and a customs officer.

The police impounded eight vehicles yesterday which were loaded with improvised explosives. A member of the security force on condition of anonymity said they recovered more than 100 explosives in the city.