Officials insist AirAsia operation to continue
Jakarta: Officials from Indonesia's Search and Rescue Agency said on Wednesday that the search operation to recover bodies and wreckage from the crashed AirAsia flight would continue despite the military's withdrawal from the mission.Chief Henry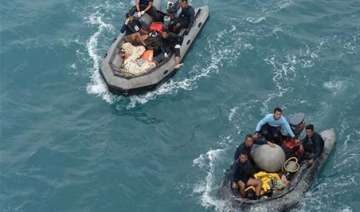 India TV News Desk
January 28, 2015 14:18 IST
Jakarta: Officials from Indonesia's Search and Rescue Agency said on Wednesday that the search operation to recover bodies and wreckage from the crashed AirAsia flight would continue despite the military's withdrawal from the mission.
Chief Henry Bambang Soelistyo told journalists in Jakarta that the rescue teams were now rested for two days, but they will be back at work from Saturday morning for a further seven days.
After that period the agency would conduct an evaluation to determine whether the search operation be extended once again or stopped.
Indonesia's military announced on Tuesday it had halted its recovery efforts for the crashed AirAsia plane, including attempts to locate more bodies and raise the fuselage from the Java Sea.
Relatives of victims of the crash also attended Wednesday's news conference.
Lukas Joko, a relative of one of the passengers told AP that the families were happy with the actions of the Search and Rescue Agency but they felt it was not enough "because there's a lot of bodies still waiting to be evacuated."
Up to now a total of 70 bodies have been recovered from AirAsia Flight 8501, which crashed on December 28 with 162 people on board while flying from Surabaya, Indonesia's second largest city, to Singapore.