Over five million kids affected by Syria conflict: Unicef
Geneva : Some 5.5 million Syrian children fell victims to the three-year-old crisis in the war-torn country, the UN Children's Fund (Unicef) said Tuesday while releasing a new report on the prevailing situation in the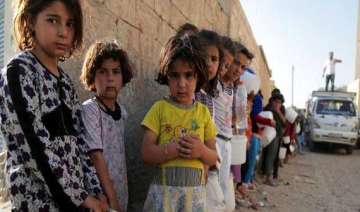 IANS
March 12, 2014 8:21 IST
Geneva :
Some 5.5 million Syrian children fell victims to the three-year-old crisis in the war-torn country, the UN Children's Fund (Unicef) said Tuesday while releasing a new report on the prevailing situation in the country.
Unicef also appealed for an immediate end to the violence and enhanced support for the affected.
In the report titled -- Under Siege--the devastating impact on children of three years of conflict in Syria -- the UN agency stressed the immense damage caused to children by the ongoing armed conflicts, Xinhua reported.
It warned that the future of 5.5 million Syria children, with some 4.3 million children inside Syria and around 1.2 million having fled to neighbouring countries as refugees, was threatened.
It was due to violence, the collapse of health and education services, severe psychological distress and the worsening economic impact on families combined to devastate a generation, it added.
The UN agency called for international community to halt the violence in Syria, and granting of immediate access to under-reached children living in the country.
It also urged for boosting the education and healthcare system, providing support to host communities and governments to improve the conditions for Syria refugee children and families.