Pakistan air strikes kill 76 militants
Islamabad: At least 76 militants, including a Taliban commander, were killed yesterday in two separate air strikes by Pakistani forces in the volatile northwest tribal region, where the military is locked in a major offensive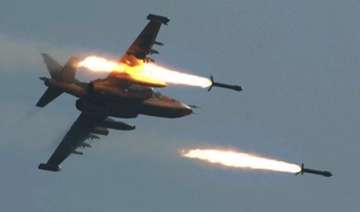 PTI
January 28, 2015 6:44 IST
Islamabad: At least 76 militants, including a Taliban commander, were killed yesterday in two separate air strikes by Pakistani forces in the volatile northwest tribal region, where the military is locked in a major offensive against insurgents.
The security forces targeted militant-controlled areas in Datta Khel region of North Waziristan, one of the seven tribal regions in Pakistan, near the Afghan border.
"In precise aerial strikes, 53 terrorists including some foreigners were killed," military spokesman Major General Asim Saleem Bajwa said.
The military said in a second airstrike 23 more militants were killed in the area.
Bajwa said that six terrorist hideouts, an ammunition dump and seven explosive-laden vehicles were also destroyed in the air strikes.
Another official earlier said a Taliban commander and foreign al-Qaeda fighters were also among those killed. Pakistan security forces launched major military campaigns against Taliban and foreign militants in the restive northwest tribal region after a major assault on Karachi international airport in June last year.
Air strikes, artillery, mortars and ground troops have all been used to take back the rebel-held territories. The army intensified the offencive after Taliban gunmen massacred 150 people, mostly children, in a horrific attack on an army-run school in Peshawar in December.
More than 1,500 militants have been killed during the ongoing operations, officials claim.
The toll, however, could not be verified as the area is out of reach for journalists.
Pakistan has ended a six-year moratorium on the death penalty in terror-related cases in the wake of the Peshawar assault.
So far, 20 prisoners have been executed. There are more than 8,000 death row prisoners in the country.