Pak Army Chief Kayani Calls For Peaceful Co-Existence
Islamabad, Apr 18: Pakistan's army chief Gen Ashfaq Parvez Kayani today said all issues between India and Pakistan should be resolved to ensure "peaceful co-existence" which would allow the two countries to focus on development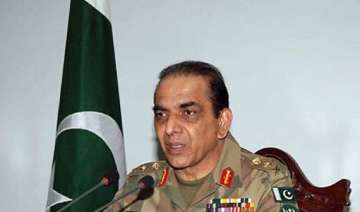 PTI
April 18, 2012 23:00 IST
Islamabad, Apr 18:
Pakistan's army chief Gen Ashfaq Parvez Kayani today said all issues between India and Pakistan should be resolved to ensure "peaceful co-existence" which would allow the two countries to focus on development and the welfare of the people.
In his first public remarks on the peace process that was resumed by New Delhi and Islamabad last year, the powerful army chief said: "All issues should be resolved and peaceful co-existence is very necessary for both countries. There is no doubt about that".
Speaking to reporters in the northern town of Skardu after reviewing the search for 138 people who were buried by an avalanche that hit a high-altitude army camp, Kayani said Pakistan hoped that the Siachen issue is "resolved so that both the countries don't have to pay the cost".
"There will be a resolution and we want that there should be a resolution (of the Siachen issue). There should be a resolution of Siachen and other issues," Kayani said in response to questions during a rare media interaction.
Peaceful co-existence between the two countries "is very important" as it will enable everybody to "concentrate on the well-being of the people", he said.
"We in the army understand very well that there should be a very good balance between defence and development," he said.
The two countries cannot "keep spending on defence alone and forget about development" because the security of a country depends not only on securing the borders but on ensuring that the people "are happy and their needs are being met", Kayani said.
Responding to public concerns about the deployment of troops on Siachen in the wake of the avalanche, the army chief said: "Everyone knows why the army is here - because in 1984, the Indian Army occupied the area and in response to that, the Pakistan Army was sent in".
He contended it was the army's duty to defend the country "whatever the cost".