Pak Army Rejects NATO Probe
Islamabad, Jan 23: Punching holes into a US probe report of the cross-border NATO air strike that killed 24 Pakistani soldiers last year, the Army here today rejected it saying the country was considered in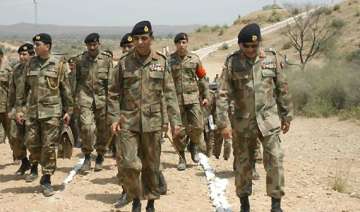 India TV News Desk
January 23, 2012 20:31 IST
Islamabad, Jan 23: Punching holes into a US probe report of the cross-border NATO air strike that killed 24 Pakistani soldiers last year, the Army here today rejected it saying the country was considered in an "adversarial role" and not as a friend during the American inquiry. 

"Pakistan does not agree with several portions and findings of the (US) investigation report as these are factually not correct," said a terse statement from Inter-Services Public Relations, the media arm of the military.

Noting that the US investigating team's mandate "was to conduct an operationally focused fact-finding investigation into the circumstances surrounding the engagement between friendly forces and PAKMIL (Pakistan Military)", the statement said it was implicit in this mandate that "Pakistan was considered in an adversarial role and not part of friendly forces".

The Pakistani military further noted that the mandate given to the US investigating officer did not include "affixing specific responsibility" for the air strike. 

"Without this specific mandate, the investigation report could not have been complete," it said.

The "fundamental cause" of the NATO air strike of November 26 was the "failure of the US/ISAF to share its near-border operation with Pakistan at any level", the statement said. 

"This obviously was a major omission, as were several others, like the complicated chain of command, complex command and control structure and unimaginative/intricate rules of engagement as well as lack of unified military command in Afghanistan," it said.

Pakistan had reacted angrily after 24 soldiers were killed and 13 more injured when NATO helicopters and combat jets from Afghanistan targeted two military check posts in Salala area of Mohmand tribal region.

Islamabad shut down all NATO supply routes and forced the US to vacate Shamsi airbase, which was reportedly used by CIA-operated drones.

Prime Minister Yousuf Raza Gilani announced shortly after the attacks that it could not be "business as usual" between Pakistan and the US.

Acting on Gilani's instructions, a parliamentary committee has framed over 30 recommendations for the revamp of bilateral relations.

A joint session of parliament is expected to debate these recommendations next month.

The military statement said the Pakistan Army had received the US investigation report on the Salala incident on December 24.'

The report was analysed by the Pakistani military to "reiterate facts and correct the perspective".