Pak Army To Put Its Weight Behind SC
Islamabad, Jan 13 : The Pakistan Army's top commanders have decided to throw their weight behind the Supreme Court in its standoff with the civilian government over the memo scandal and the revival of high-profile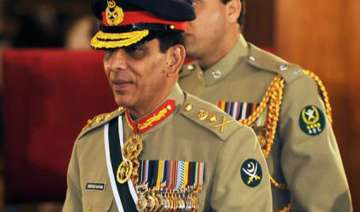 India TV News Desk
January 13, 2012 13:46 IST
Islamabad, Jan 13 : The Pakistan Army's top commanders have decided to throw their weight behind the Supreme Court in its standoff with the civilian government over the memo scandal and the revival of high-profile graft cases, according to a media report today.

The decision was made at a meeting of top commanders chaired by army chief Gen Ashfaq Parvez Kayani at the General Headquarters in Rawalpindi yesterday, The Express Tribune quoted its sources as saying.

Kayani held consultations with Corps Commanders and Principal Staff Officers on the evolving political situation during the meeting.

There was no official word on the meeting from the military's media wing.

During their meeting yesterday, the army's top commanders "appear to have their eyes set on the apex court to deal a decisive blow against the beleaguered" government, The Express Tribune reported.

Military officials confirmed to the newspaper that Kayani's long consultations with top commanders focussed on the army's deepening rift with the government. 
According to an unnamed military official, the commanders decided the army would stand behind the apex court, which has warned that the Prime Minister could be disqualified if the government failed to reopen high profile corruption cases by January 16.

The army will "certainly consider assisting the judiciary if help was sought to implement the court's decision", the official said.

"The army will follow the legal course and if the Supreme Court directs the army for any assistance, we are legally bound to respond to that," the official said. 
The commanders met a day after the military issued a strongly worded statement that warned Prime Minister Yousuf Raza Gilani's criticism of the army and intelligence chiefs over the memo issue could have "grievous consequences". 

The apex court has spelt out six options that could come into play if the government failed to reopen the graft cases by January 16, the next date of hearing of the matter.  Legal experts believe the Supreme Court can invoke Article 190 of the Constitution to ensure implementation of its verdict.

The Article says that "all executive and judicial authorities in Pakistan shall act in aid of the Supreme Court".Some constitutional experts believe the apex court might seek the military's help to implement its order under Article 190.

There has been an instance in the past when Justice Sajjad Ali Shah wrote a letter to then army chief Gen Jahangir Karamat, who served under premiers Benazir Bhutto and Nawaz Sharif, seeking military help to provide security to the Supreme Court in view of a possible attack.  However, Karamat forwarded the letter to the Defence Ministry.

Justice Shah did not invoke Article 190 but wrote a letter in his administrative capacity, said Supreme Court lawyer Tariq Mehmood.He argued that it was beyond his comprehension for the military to help in the implementation of Supreme Court verdicts.

"Will the military take over the government affairs? Will they force the government to write a letter to Swiss authorities at gunpoint," he asked rhetorically.

Another Supreme Court lawyer, Salman Akram Raja, endorsed the view, saying, "The army has nothing to do with this."