Pak. Minister escapes bid on life
Karachi, Aug 8: Eleven people, including several children, were killed and around 30 injured when a bomb went off outside a football ground in the Pakistani port city of Karachi on Wednesday, police said.The apparent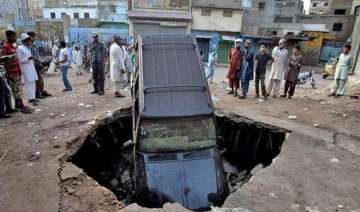 PTI
August 08, 2013 10:00 IST
Karachi, Aug 8:
Eleven people, including several children, were killed and around 30 injured when a bomb went off outside a football ground in the Pakistani port city of Karachi on Wednesday, police said.
The apparent target of the attack was provincial minister Javed Nagori, who escaped unhurt. The bomb was detonated near Mr. Nagori's vehicle as he was leaving after witnessing a match, said a police officer.
The blast occurred early Wednesday morning outside the ground in the impoverished and densely populated Lyari area, which has a tradition of holding football matches in Ramzan.
The bomb was planted in a motorcycle. It damaged the Minister's car, police said.