Pakistan Air Force inducts indigenously-built JF-17 Thunder fighter jets
Islamabad: Pakistan's Air Force yesterday formally inducted indigenously-built JF-17 Thunder fighter jets into its combat school.The PAF said that a special ceremony was held at the Combat Commanders' School at PAF Base Mushaf to include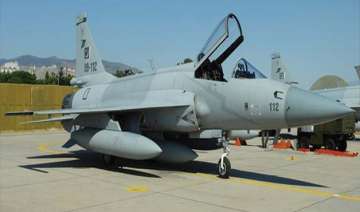 PTI
January 27, 2015 10:07 IST
Islamabad: Pakistan's Air Force yesterday formally inducted indigenously-built JF-17 Thunder fighter jets into its combat school.
The PAF said that a special ceremony was held at the Combat Commanders' School at PAF Base Mushaf to include the fighter in the country's defence force.
The jets carried out a display that was met with applause by a jubilant crowd that had gathered for the ceremony.
Air Marshal Sohail Aman, Deputy Chief of the Air Staff (Operations) who was the chief guest at the occasion also met the air and ground crew.
The induction of the JF-17 Thunder fighter jets had begun in 2007 and has been continuing since then.
The PAF currently has two JF-17 Squadrons that are actively engaged in different operations.
The inclusion of the aircraft is being termed a major milestone towards self-reliance and enhancement of operational capability. The jets are built in Pakistan with Chinese assistance.
It is a light weight, all weather multi-role fighter jet equipped with a modern state-of-the-art avionics suite and an advanced cockpit layout.
The fighter jet has the capability to carry out air-to-air and air-to-ground strikes, and can be fitted with beyond-visual-range (BVR) missile.