Pakistan freezes JuD bank accounts, imposes foreign travel curbs on Hafiz Saeed
Islamabad: Under prodding from the United States and the UK, Pakistan on thursday said the bank accounts of Hafiz Mohammed Saeed's Jamaat-ud-Dawah have been frozen and foreign travel restrictions have been imposed on Saeed.Foreign Office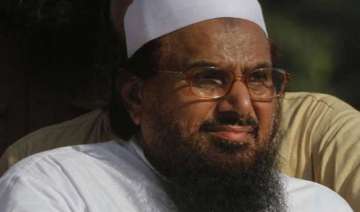 India TV News Desk
January 23, 2015 11:55 IST
Islamabad: Under prodding from the United States and the UK, Pakistan on thursday said the bank accounts of Hafiz Mohammed Saeed's Jamaat-ud-Dawah have been frozen and foreign travel restrictions have been imposed on Saeed.
Foreign Office spokesperson Tasneem Aslam said, the decision was taken under the UN obligation and not under pressure from any other quarter including John Kerry.
Aslam said, assets of all banned organisations in Pakistan have been frozen, Radio Pakistan reported.
She also said, the Haqqani network has also been banned. The Haqqani network, founded by Jalaluddin Haqqan, has been blamed for some of the most deadly attacks on Indian and US embassies in Afghanistan.
Aslam again clarified that the decision was taken in Pakistan's own interest and not due to external pressure.
Other terrorist outfits that have been banned include Harkatul Jihad Islami, Harkatul Mujahideen, Falah-i-Insaniyat Foundation, Ummah Tameer-i-Nau, Haji Khairullah Hajji Sattar Money Exchange, rajat Limited, Roshan Money Exchange, Al Akhtar Trust  and Al Rashid Trust.
During his recent Islamabad visit, US Secretary of State John Kerry had welcomed Pakistan's decision to ban the Haqqani network and the Jamaat ud Dawah.