Lakhvi's release: Pakistan blames India for 'inordinate delay' in 26/11 trial
Islamabad: Pakistan on Friday blamed India for "inordinate delay" in extending cooperation in the 2008 Mumbai attack trial, saying it complicated the case of Zaki-ur- Rehman Lakhvi and weakened the prosecution, leading to the release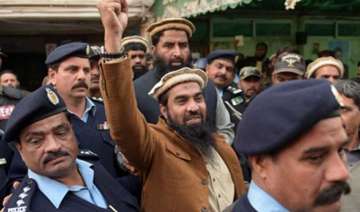 PTI
April 10, 2015 22:51 IST
Islamabad: Pakistan on Friday blamed India for "inordinate delay" in extending cooperation in the 2008 Mumbai attack trial, saying it complicated the case of Zaki-ur- Rehman Lakhvi and weakened the prosecution, leading to the release of the LeT operations commander.
"As I had mentioned earlier also, inordinate delay in extending cooperation by India complicated the case and weakened the prosecution. We respect the judicial process and are confident that it would serve the interest of justice," Foreign Office Spokesperson Tasnim Aslam said.
"The case of Mumbai attack suspects is sub-judice. It would not be proper to cast aspersions on Pakistan's commitment to countering terrorism at a time when Pakistan has entered a critical stage of defeating the menace of terrorism," she said when asked about her Indian counterpart's remarks on the Lahore High Court ruling, ordering Lakhvi's release.
Fifty five-year-old Lakhvi, who guided 10 LeT gunmen from a control room in Pakistan during 26/11, walked free on Friday after being under detention for six years, a day after a Pakistani court ordered his release.
Lakhvi, a close relative of LeT founder and JuD chief Hafiz Saeed, was arrested in December 2008 and was indicted along with the six others on November 25, 2009, in connection with the 26/11 attack that claimed 166 lives. The trial has been underway since 2009.