Pakistan offers help to Nepal, India after 7.9-magnitude quake
Islamabad: Pakistan Prime Minister Nawaz Sharif today extended all assistance to India and Nepal that were hit by a powerful 7.9-magnitude earthquake. "The Government and people of Pakistan express solidarity with the affected people of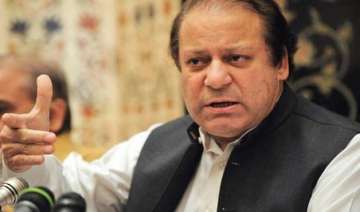 PTI
April 25, 2015 18:35 IST
Islamabad: Pakistan Prime Minister Nawaz Sharif today extended all assistance to India and Nepal that were hit by a powerful 7.9-magnitude earthquake. "The Government and people of Pakistan express solidarity with the affected people of Nepal and India and offer all possible help that may be required in their hour of grief," Foreign Office (FO) said in a statement.
Sharif, who is visiting Britain, offered condolences and help besides instructing its Missions in the two countries to approach their respective host governments to ascertain the damages caused and the requirement of relief assistance, according to the FO.
Pakistan's National Disaster Management Authority (NDMA) has been directed to offer assistance at short notice.  The tremors of powerful 7.9 magnitude quake were also felt in Pakistan but no loss to life or property has been reported so far that has claimed over 700 lives so far in the two countries.