Pakistan plans targeted operation in violence-hit Karachi
Islamabad: The Pakistani government Wednesday hinted a "targeted operation" against the miscreants in the violence-hit port city of Karachi where businesses are now demanding deployment of the army to restore peace.Interior Minister Chaudhry Nisar Ali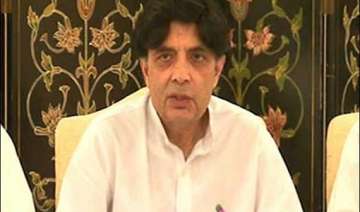 IANS
August 29, 2013 7:55 IST
Islamabad:
The Pakistani government Wednesday hinted a "targeted operation" against the miscreants in the violence-hit port city of Karachi where businesses are now demanding deployment of the army to restore peace.
Interior Minister Chaudhry Nisar Ali Khan said the government has proposed a targeted operation in Karachi against identified target killers, extortionists and criminals, Xinhua reported.
Addressing a press conference in Islamabad Wednesday, the minister said the next meeting of the cabinet would be held in Karachi to discuss the blueprint of the proposed operation.
A report released by the Human Rights Commission of Pakistan earlier in July said a total of 1,726 people were killed in Karachi during the first half of 2013.
Those killed included victims of sectarian violence, targeted killings, as well as over a hundred people whose dead bodies were found in the city and who appeared to have died in incidents of violence, the commission said in a latest report.
The minister said there was no need for whole scale operation in Karachi as a number of target killers, extortionists and criminals have already been identified, and that the city can get rid of these elements in a non-political and transparent operation.
The cabinet, presided over by Prime Minister Nawaz Sharif, Wednesday discussed the law and order situation in Karachi and called for deployment of the regular army to check violence.
"The prime minister took serious notice of the law and order situation in Karachi and directed the interior minister to make a comprehensive presentation in the next cabinet meeting on the issue," an official statement said.
Information Minister Pervez Rashid said the prime minister directed the interior ministry to submit before the cabinet a detailed report on law and order situation in Karachi to assist the provincial government to improve the situation.
Although the powerful political group in the city, the Mutahida Qaumi Movement, or MQM, has called for army's deployment, the proposal is opposed by the Pakistan Peoples Party, which rules Sindh province, of which Karachi is the capital. Some other groups have also opposed army's deployment.
The Supreme Court also heard a case about the poor law and order situation in Karachi. Head of the paramilitary force in Sindh Major General Rizwan Akhtar told the court that militant wings of political parties are responsible for the ongoing violence in the city.