Pakistan to form new panel to step up peace talks
Islamabad : The Pakistan government Thursday decided to form a new committee to accelerate peace talks with the Pakistani Taliban.The committee, which is likely to be formed in the next two days, will include representatives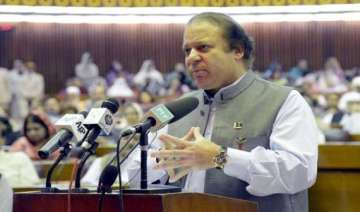 IANS
March 06, 2014 15:32 IST
Islamabad :
The Pakistan government Thursday decided to form a new committee to accelerate peace talks with the Pakistani Taliban.
The committee, which is likely to be formed in the next two days, will include representatives of the Khyber Pakhtunkhwa government, the army, Inter-Services Intelligence (ISI), and other stakeholders, the Dawn reported citing sources.
The committee will also have decision-making powers, the report said.
Both sides Wednesday agreed that the first phase of the dialogue process has been completed successfully and the dialogue has now entered the second but crucial phase, leaders of the two committees said.
Prime Minister Nawaz Sharif said the present committees would perform communication duties.
The Taliban-nominated committee included Maulana Samiul Haq, Professor Ibrahim and Maulana Yousuf Shah, whereas the government's negotiators included Irfan Siddiqui, Rustam Shah Mohmand, Maj. (Retd.) Amir, and Rahimullah Yusufzai.
Both the committees had a breakfast meeting with Sharif Thursday.
The statement issued by the prime minister's office agreed on devising methods for establishing direct links between the negotiators and said the teams would consider new strategies in order to make the decision-making process more effective.