Philippine ship collision toll climbs to 80
Manila: The death toll from a ship collision in the central Philippine province of Cebu rose to 80, the Philippine Coast Guard said Friday.Of the total fatalities, 76 were passengers and four crew members of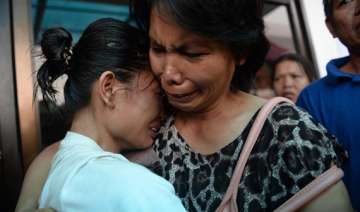 IANS
August 24, 2013 9:26 IST
Manila:
The death toll from a ship collision in the central Philippine province of Cebu rose to 80, the Philippine Coast Guard said Friday.
Of the total fatalities, 76 were passengers and four crew members of passenger vessel MV St. Thomas Aquinas, Xinhua reported.
Some 40 people, including 34 passengers and six staff, were still missing while the number of survivors stood at 750.
The passenger vessel collided with cargo ship Sulpico Express 7 a week ago off the Lawis Ledge in Talisay City, Cebu.
The tragedy resulted in a massive oil spill along some coastal areas of Cebu.