Former Pak minister Rehman Malik dubs Headley's testimony as 'a pack of lies': Report
Islamabad: Former Interior minister of Pakistan Rehman Malik today accused India of defaming its neighbour country by fabricating the confessions made by David Headley regarding the 26/11 Mumbai attacks, terming the Pakistani-American terrorist's testimony as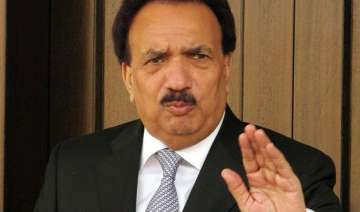 India TV News Desk
February 10, 2016 19:41 IST
Islamabad: Former Interior minister of Pakistan Rehman Malik today accused India of defaming its neighbour country by fabricating the confessions made by David Headley regarding the 26/11 Mumbai attacks, terming the Pakistani-American terrorist's testimony as 'a pack of lies'.
David Headley, on the second day of his deposition, had revealed that Lashkar-e-Taiba (LeT) militants had been planning to attack a meeting of Indian defence scientists at the Taj Mahal hotel for a year before they finally struck on 26/11.
Reacting to this claim, Malik, who was then Interior minister, had rubbished Headley's testimony.
"His confessions are all a pack of lies and fabricated statements," Malik, who now heads the Senate's Standing Committee on Interior and Narcotics Control, told Pakistani daily Express Tribune.
Rubbishing all "allegations levelled by India against Pakistan for ulterior motives", the former PPP lawmaker claimed Headley was "planted" by Indian intelligence agencies for "executing the Mumbai attacks and then getting concocted statements from him".
"We have the details about who paid tickets, who funded him and how he recruited non-state actors from Pakistan [for the attack]," Malik claimed.
Headley, 55, was jailed for 35 years in 2013 by a Chicago court for his role in the November 2008 Mumbai attacks.
The deposition of Pakistani-American terrorist David Coleman Headley before a court in Mumbai for the third consecutive day, was on Wednesday adjourned till Thursday due to a technical problem in the video-link at the US end.
"There was a technical snag in the video conference link from their side (US) due to which we could not connect despite several attempts since morning," Special Public prosecutor Ujjwal Nikam told PTI. The testimony will continue tomorrow, he said.
The deposition, initially planned till February 12, may now extend for some more time. Headley, for the past two days, is deposing from an undisclosed location in the US in connection with the 26/11 terror attacks case.
In his tell-all deposition, Headley revealed how ISI was helping different terror outfits in Pakistan by providing financial, military and moral support. He also said that he also used to work for the ISI and met many Pakistan army officials.
He also said that he had suggested to LeT founder Hafiz Saeed and its operational commander Zakiur Rehman Lakhvi about dragging US government to court for banning LeT as a global terror outfit.
(With PTI inputs)