#NepalDevastated: After quake, epidemic fears surround Nepal
Kathmandu: Chaos broke out in Kathmandu as hundreds of people tried to flee the city as soon as possible following Saturday's devastating 7.9 magnitude earthquake.Rescuers and international aid workers today struggled to reach relief in remote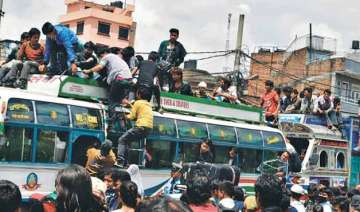 India TV News Desk
30 Apr 2015, 22:51:21 PM IST
Kathmandu: Chaos broke out in Kathmandu as hundreds of people tried to flee the city as soon as possible following Saturday's devastating 7.9 magnitude earthquake.
Rescuers and international aid workers today struggled to reach relief in remote areas of the Himalayan nation which is still battling the aftermath.
India government has so far evacuated 20,000 of its nationals from quake-hit Nepal and arrangements were being made to take them to their homes.
Miraculous pullouts of a teenaged boy and a woman alive today lifted the gloom on a rainy day while three fresh aftershocks kept people on edge, even as Nepal's Army Chief feared that the death toll in the quake could be as high as 15,000.
Rescuers are still struggling to reach remote mountainous areas in the Himalayan nation, where relief efforts have been hampered by heavy rain and landslide even as global help poured in following the quake that has killed nearly 6,000 people and injured at least 11,000 others.  
Despite a massive 7.8 magnitude earthquake that triggered a landslide that killed 19 people at Everest base camp, government and trekking officials in Nepal said Thursday that expeditions to summit Mt. Everest may resume if climbers decide to go ahead.
The climbers and Sherpas who were attempting to summit from the north face of the mountain, in Tibet, have already packed their gear and left after Chinese authorities closed all climbing for the spring season.
 Five days after a powerful earthquake jolted Nepal, its capital is slowly limping back to normalcy, with shops opening in several areas and electricity being restored partially in the quake-hit country.  
There is also buzz on the road and supply of basic food items like milk and petrol is being gradually restored to Nepalese, who have been grappling with shortage of basic necessities since Saturday when the temblor struck.  
 As part of its quake-relief efforts, Israel has set up its biggest field hospital with 125 personnel and a range of wards, including an obstetrics department in Kathmandu which also conducted a successful delivery - of a baby boy.
The hospital is operating in coordination with the local army hospital and can treat 200 patients a day.
On its first day of operation, the hospital staff treated about 100 patients, including delivering its first baby - a healthy 2.1 kg baby boy, the Israeli embassy here said in a press release.
A total of 8,450 tents were dispatched to Nepal on Thursday for people affected by the devastating earthquake, the National Disaster Response Force (NDRF) said here.
An NDRF statement said 750 tents received from paramilitary forces -- including 250 each from the NDRF and the Central Industrial Security Force (CISF), 150 from the National Security Guard (NSG) and 100 from the Border Security Force (BSF) -- were being airlifted to Nepal with NDRF's coordination.
In addition, 7,700 tents contributed by the Central Reserve Police Force (1,600), BSF (2,000), Indo-Tibetan Border Police (200), CISF (250), NDRF (3,000), Sashastra Seema Bal (200), Assam Rifles (300) and NSG (150) were being sent via rail to assist the Nepalese authorities.
Pakistan, in the name of relief material, has reportedly sent  ready-to-eat 'beef masala' packets as part of relief material to a country where the cow is considered sacred.
Since the majority-Hindu country treats cows as sacred and there is a blanket ban on slaughtering the animal, the development has shocked the quake affected people. 
According to the reports, most of the local people are not aware of the contents. Once they get to know this, they avoid even to touch those packets.
Hundreds cheered as the 18-year-old, identified by police as Pemba Tamang, was pulled out of the wreckage, dazed and dusty, and carried away on a stretcher. He had been trapped under the collapsed debris of a seven-story building in Kathmandu since Saturday, when the magnitude 7.8 earthquake struck.
Nepalese rescuers, supported by an American disaster response team, had been working for hours to free him. L.B. Basnet, the police officer who crawled into a gap to reach Tamang, said he was surprisingly responsive.
In mere seconds a powerful earthquake devastated a swathe of Nepal. Rebuilding the impoverished Himalayan nation's fragile economy will require a long slog, financed by foreign aid and money from its army of overseas workers.
Initial estimates peg the economic damage from the temblor that killed more than 5,000 people at billions of dollars. The tourism industry, a pillar of the economy, has been shattered and it's unclear when the travelers will return.
The toll in the massive earthquake that devastated Nepal has risen to 5,489, the Nepalese home ministry said on Thursday.
As many as 10,965 people were injured.
Some 134,864 houses were destroyed and 92,971 were damaged, the ministry said.
After the deadly earthquake which has caused death of more than 6000 people, Nepal fears an epidemic in the open camps designated for the victims.
Due to unhygienic sanitation conditions and lack of water supply the health meters are giving warnings of disease outbreaks. Further worsening factor is the dead bodies which have still not been dug out of the debris. Till date there is no clarity on how many could be there and hence has set off the alarm bells.
Doctors in the city hospitals have also started receiving complaints of diarrhoea and skin allergies. In Bhaktapur, east of Kathmandu, suspected cases of gastroenteritis have emerged and doctors say that an outbreak of water-borne diseases in a such a situation is not unusual.
Hundreds of villagers at the earthquake epicentre of Nepal – Gurkha and Barpak - have been totally cut off from the rest of the areas due to major landslides and are hence dying a slow death.
Since long stretches of land and roads have completely wiped off from these villages hence the rescue choppers are also not able to land and provide any help.
The only rescue reaching them is the food, tents and blankets being dropped from the hovering Indian Air Force choppers.
The threat of landslides and mudslides remains high in earthquake-hit Nepal in the coming weeks, and the risk is likely to increase when the monsoon rains arrive this summer, scientists have warned.
The region at highest risk for landslides and mudslides is the mountainous area along the Nepal-Tibet border, north of Kathmandu and west of Mount Everest, directly above the fault rupture, according to researchers at the University of Michigan (U-M).
They looked for locations where landslides likely occurred during the earthquake, as well as places that are at high risk in the coming weeks and months.
 In a miracle, a four-month-old baby was pulled out alive by rescue workers from the rubble of a collapsed building in Bhaktapur town, at least 22 hours after the devastating temblor that struck Nepal.
Rescue workers and soldiers initially missed the baby as they searched through the debris desperately for survivors of the quake, Kathmandu Today newspaper reported today. Amid the tonnes of debris a baby cried out in a faint voice, prompting the rescuers to check the entire area again.
The rescuers then carefully removed the rubble only to find the dust-covered baby boy under the debris. 
The Uttar Pradesh government has so far evacuated nearly 15,000 affected people following last week's devastating Nepal earthquake.
These people are being taken to Gorakhpur's transit camps and arrangements are being made to shift them to their respective houses from there, the official said.
Thirty foreign tourists from Nepal also reached Uttar Pradesh and transit visas are being arranged for them.
The toll due to the April 25 earthquake in India has gone up to 78, while the number of injured people stands at 560, the government said on Wednesday.
"As per latest reports, 78 deaths have been reported so far in India - 58 in Bihar, 16 in Uttar Pradesh, 3 in West Bengal and 1 in Rajasthan.
"A total of 560 people - 275 in Bihar, 100 in Uttar Pradesh, 169 in West Bengal, 9 in Sikkim and 7 in Rajasthan - have been reported injured," said a release issued here.
Quake-hit Nepal is now grappling with a new challenge - how to deal with post-disaster diseases like diarrhoea and respiratory infections, as water and sanitation are emerging as major concerns.  
Health experts fear outbreak of diseases like diarrhoea, acute respiratory infection, eye and skin and health issues, adding to the woes of survivors, who are homeless and are struggling with scarcity of food and water supplies.  
Moreover, injuries due to earthquake like fractures, spinal cord injuries, psychological trauma and child health are major issues that are worrying the health experts.  
Fresh tremors strike Kathmandu once again at 5:12 in the evening measured 4.5 on Richter scale.
India said it is focusing on Nepal's capital Kathmandu and the worst-affected Gorkha district for its rescue and relief efforts in the quake-hit country.
With the help of National Disaster Response Force (NDRF), rescue work was carried out and ten bodies were recovered from the building. 30 NDRF personnel from India were part of this operation.
Over 500 personnel from NDRF are currently in Nepal to carry out the rescue operations.
he Income Tax department has launched a 'Tatkal' approval mechanism for those charitable and self-help organisations who desire to help the victims of the earthquake in Nepal.
A number of voluntary organisations are either wanting to or are in the process of pooling and channeling money for the victims of the Himalayan tragedy which has claimed over 5,000 lives and injured thousands others.
The devastating earthquake that struck the Nepalese capital has turned the 500-year-old Kashtamandap temple to rubble, killing several under the debris of the historic structure from which the city derives its name.
To add to the misery, people thought that since the temple has survived earthquakes before, it can manage even this time.  So people from outside rushed inside," said Ajay Shakya, 21, a volunteer and student who stays near the temple.
The repercussions of the deadly earthquake are freighting. While on one side people are fighting for survival, on the other people are being pushed into a new crisis by hoarders and black marketers.
Retailers, wholesalers, taxi owners, rickshaw pullers, small hoteliers — everyone's charging a ransom; no one seems to be in a position to rein them in.
The Nestle packet of powdered milk that has Rs 212 printed as MRP was available in market around Rs 400 with a fresh pasted sticker over it. 
The Bihar government has ordered an inquiry into the pasting of stickers on the foreheads of persons injured in earthquake at Darbhanga Medical College and Hospital (DMCH) after the incident kicked up a row.
Baidyanath Sahni, minister in-charge for the district, who visited DMCH late last evening after the news of pasting "bhukamp" (earthquake) tags on foreheads of victims went viral, told PTI today that he has asked the District Magistrate to conduct a probe.
Stern action would be taken against the guilty on the basis of the probe report, he said.
A man pulled from the rubble of a collapsed building in Kathmandu more than three days after the deadly Nepal earthquake says he drank his own urine to survive.
Rishi Khanal tells The Associated Press that he had given up all hope of rescue as his lips cracked and his nails turned white. There were dead bodies around him and a terrible smell. But he kept banging on the rubble all around him and eventually this brought a French rescue team that extracted him after an operation lasting many hours.
He's now being treated for leg injuries at a hospital in the capital the day after French rescuers found him and brought him out from a collapsed hotel. He had been buried for 82 hours.
Man rescued alive from rubble 80 hours after quake
A man was miraculously rescued alive by rescuers 80 hours after being buried under the rubble following Saturday's earthquake that jolted the Himalayan nation.
"We want to cover maximum area and rescue as many as we can. We can also go out of kathmandu of Nepal authorities want us to," NDRF Director General (DG) OP Singh, who has been camping in Kathmandu since Sunday, said.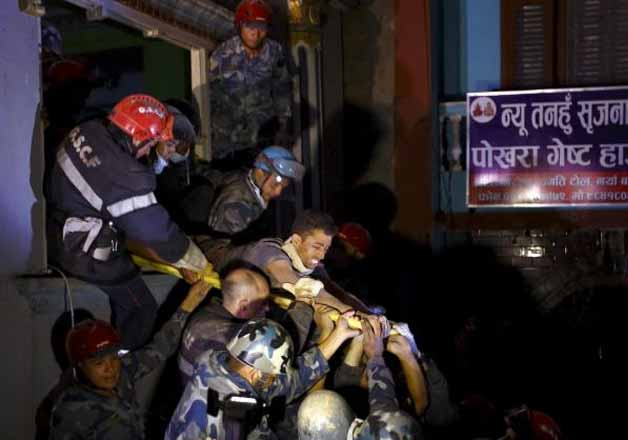 Tapan Singh was standing in a queue to buy a bus ticket when all of a sudden the ground beneath his feet started shaking. He froze with shock as he saw the 183-year-old iconic Dharahara tower come crashing down, burying scores of people.
"I saw the Dharahara tower shaking, and then it crashed down with a deafening sound. I could not hear anything for a minute, could not do anything," Tapan Singh said.
"It was our ' Eiffel Tower ', it was the pride of Kathmandu," he said.
Four days after 7.9 magnitude earthquake killed over 6000 people, hungry and desperate people rushed towards relief helicopters in remote areas.
As Prime Minister Sushil Koirala said getting help to remote areas was a major challenge for rescue workers, aid finally began reaching areas that had to fend for themselves.
Koirala yesterday said that death toll could reach 10000, as information of damage from far-flung villages and towns has yet to come in. he also declared three days of national mourning.
"The government is doing all it can for rescue and relief on a war footing. The death toll could go up to 10,000 because information from remote villages hit by the earthquake is yet to come in," Koirala said.
An Interior Ministry official put the death count at 5057, saying the number would climb up as hundreds were still trapped under tonnes of rubble in Kathmandu.
The UN released $ 15 million as emergency aid for quake-hit Nepal to "scale up" the rescue operations in the country which is facing an acute shortage of food, water, electricity and medicines.
"I have just allocated $ 15 million for Nepal from the UN's emergency fund UNCERF so that aid agencies can rapidly scale up and save lives," tweeted Valerie Amos, UN Under- Secretary-General for Humanitarian Affairs.
UN agencies are coordinating international efforts and are working with partners in Nepal, including the government, to ensure the aid reaches to the affected people.
According to the United Nations estimate, around 8 million people have been affected.
Countries far and wide have joined the relief effort in Nepal, with India playing a leading role.