Resolve Yemen crisis through diplomacy, dialogue: Sharif
Islamabad: Prime Minister Nawaz Sharif today said the Yemen crisis should be resolved through dialogue as Iran's top diplomat shared proposals to help implement a ceasefire in the war-torn country, as Pakistan struggled to decide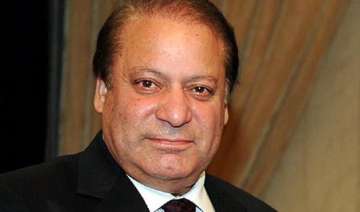 PTI
April 09, 2015 17:45 IST
Islamabad: Prime Minister Nawaz Sharif today said the Yemen crisis should be resolved through dialogue as Iran's top diplomat shared proposals to help implement a ceasefire in the war-torn country, as Pakistan struggled to decide whether to join a Saudi-led military coalition.
Iranian Foreign Minister Mohammed Javad Zarif called on Sharif and also met army chief General Raheel Sharif and discussed the raging conflict in Yemen.
The visit is taking place as Pakistan's parliament is mulling a request by close ally Saudi Arabia to provide troops, fighter jets and warships to join its coalition fighting the Shia Houthi rebels in Yemen, allegedly backed by Iran.
During the meeting, Sharif said that the crisis in Yemen should be resolved through diplomacy and dialogue.
Zarif shared proposals with Sharif to help implement a ceasefire in Yemen, Dawn reported.
The visiting Iranian foreign minister was also apprised of the premier's talks with Turkish leaders.
According to the army, the focus of the discussion with Gen Sharif remained on regional security, including the evolving situation in the Middle East, border management, defence and security cooperation.
Zarif, who arrived here yesterday on a two-day visit to discuss the Yemen crisis, has held detailed talks with the prime minister's adviser on foreign affairs Sartaj Aziz.
He proposed a four-point peace process, that would include a ceasefire, access for humanitarian assistance, intra-Yemeni dialogue and a broad-based government.
Zarif has said it was only the people of Yemen who have the final say in finding a solution to their problems. He said countries like Turkey and Oman support the idea of ceasefire.
He has not ruled out sitting with Saudi Arabia to find a solution to the crisis believed to be fuelled by the rivalry between Sunni Saudi Arabia and Shia Iran.
There is growing concern in Pakistan and across the Muslim world that the Yemen crisis may deepen the sectarian divide and may endanger peace and stability in countries with both Sunni and Shia populations.
Pakistan has a 20 per cent Shia population who are already under attack by extremist Sunni groups like the Taliban and the Lashkar-e-Jhangvi.