Snowden to leave Russia when opportunity emerges: Putin
Moscow, July 16: American whistleblower Edward Snowden will leave Russia when the opportunity emerges, Russian President Vladimir Putin has said."He has arrived in our territory without invitation, he didn't fly to us, he arrived as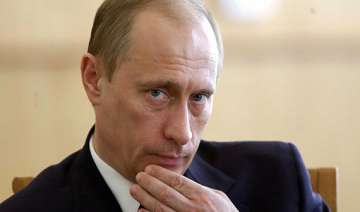 IANS
July 16, 2013 9:11 IST
Moscow, July 16:
American whistleblower Edward Snowden will leave Russia when the opportunity emerges, Russian President Vladimir Putin has said.
"He has arrived in our territory without invitation, he didn't fly to us, he arrived as a transit passenger to other countries," Xinhua quoted Putin as saying during a meeting with students in Leningrad region.
The president said Snowden was blocked from further travel after Washington revoked the 29-year-old whistleblower's passport.
"They (the US authorities) scared off all other countries, so no one wants to accept him (Snowden). So, in effect, they've blocked him on our territory themselves," Putin said.
The president declined to comment on Snowden's future, saying: "How can I know that? This is his life and his fate."
But he added: "Eventually, he (Snowden) wants to move to a permanent residence in another territory."
"As soon as the opportunity appears to move somewhere, he of course will do that," Putin said.
Putin also made it clear that Moscow is not going to harm its relations with the US, and that Snowden could only continue with his human rights activities "without our involvement".
Snowden met Russian human rights activists and lawyers at Moscow's Sheremetyevo International Airport last week.
Women-only cyber cafes planned for Chennai suburbs
IANS
Chennai, July 13: After special buses, railway coaches and colleges, women-only cyber cafes are now being planned for the city's suburbs to ensure secure internet accessibility to them.
"Women in general, and more so in the suburbs, do not use cyber cafes much for a variety of reasons, even though they may be conversant with computers and the internet," Santhosh Kumar Subramanian of start-up firm EmpowHer told IANS.
The company aims to create safe, comfortable and information-rich spaces for women.
The project is planned for city suburbs like Tambaram or small towns like Kanchipuram, around 70 km from here.
"We are doing our pilot study. As per current indications, ladies only cyber cafe's will be successful in suburbs and small towns and not in Chennai (proper)," Subramanian said while explaining the economic viability of the cyber cafes at a time when many others are shutting down.
On the reasons for women not patronising cyber cafes, Subramanian said: "Whether in the city or in its suburbs, the browsing history in computers at cyber cafes does not automatically get deleted. Hence, there is a strong possibility of women users getting embarrassed by accidentally viewing porn sites."
Further, the cafes in suburbs and smaller towns in the state are located in such places that women try to avoid them, he added.
Subramanian said the other constraints for women in accessing the internet include difficulty in adapting to new technology, lack of learning facilities and lack of awareness.
He added that a study was undertaken to understand the issues faced by women while accessing the internet. It revealed that women accounted for less than 20 percent of the visitors to cyber cafes here.
"In the city women access the internet from their homes, which is not the case with women living in suburbs and small towns," he added.
According to Subramanian, a grant has been awarded to EmpowHer by the Omidyar Grant for Entrepreneurship in South Asia by Harvard University's South Asia Institute. The grant aims to assist projects and organisations looking at entrepreneurial solutions to social and economic problems in South Asia.