Sri Lanka celebrates I-Day by lifting unofficial ban on Tamil national anthem
Colombo: In an effort to achieve reconciliation with its ethnic minority community, the Tamil version of Sri Lankan national anthem was rendered at the government's main event in Colombo on Thursday to celebrate the country's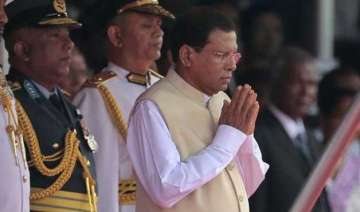 India TV News Desk
February 05, 2016 7:05 IST
Colombo: In an effort to achieve reconciliation with its ethnic minority community, the Tamil version of Sri Lankan national anthem was rendered at the government's main event in Colombo on Thursday to celebrate the country's 68th Independence Day.
Around 8-50 a.m., the celebration got off to a colourful start as the Sinhala version of the anthem was played and President Maithripala Sirisena hoisted the national flag.
But, what captured the attention of many was that the Tamil version was sung by school students at the end of the event, which was also participated by Prime Minister Ranil Wickremesinghe, Leader of Opposition R. Sampanthan and former President Chandrika Bandaranaike Kumaratunga.
The move, despite opposition from some quarters, is being seen as an effort by the government to reach out to the Tamil minority after the nearly 26-year war with the Liberation Tigers of Tamil Eelam (LTTE) that ended in 2009. About 100,000 people were killed during the civil war.
"A new journey begins by reinstating the singing of the national anthem in Tamil," said deputy minister for public enterprise development Eran Wickramaratne.
Deputy foreign minister Harsha de Silva in a Facebook post said: "A first in my lifetime. After many years the Independence Day celebrations came to a close with the national anthem sung in Tamil." President Maithripala Sirisena since becoming President in 2015 has begun several actions to win back the Tamils in the reconciliation process.
(PTI inputs)