State Institutions Should Remain Within Their Domains : Gilani
Islamabad, Jan 3: Pakistan's state institutions should perform their functions while remaining within their respective domains, Prime Minister Yousuf Raza Gilani said today against the backdrop of continuing tensions between his government and the military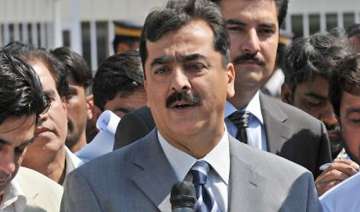 PTI
January 03, 2012 21:33 IST
Islamabad, Jan 3: Pakistan's state institutions should perform their functions while remaining within their respective domains, Prime Minister Yousuf Raza Gilani said today against the backdrop of continuing tensions between his government and the military over the Memo scandal.

Gilani made the remarks while speaking at the National Defence University before an audience that included army chief Gen Ashfaq Parvez Kayani, air force chief Air Chief Marshal Rao Qamar Suleman and naval chief Admiral Asif Sandila.

"We believe that all institutions should perform their functions in their respective domains, efficiently and effectively," the premier said.

A stable domestic environment is a prerequisite for investments and trade and only "democracy guarantees dynamic stability", he remarked.

Democracy enables the creative forces of the people to "find expression and full resonance for the socio-economic transformation" of the country and all state institutions, including the armed forces, judiciary and parliament are anchored in the Constitution and law, Gilani said.

In the past few weeks, the government and the powerful military have differed on the crucial issue of whether the Supreme Court should order an inquiry into the alleged memo that sought US help to stave off a military takeover in Pakistan after the killing of Osama bin Laden in May.

The army had urged the court to order an independent probe and a nine-judge bench subsequently formed a commission to conduct an inquiry into the scandal.

The court's move increased pressure on the weak government, which is grappling with charges of corruption and inefficiency.

Gilani recently lashed out at the army, saying it was unacceptable for the force to act as a "state within a state".