Strike called by opposition parties cripples Nepal's capital
Nepal: A general strike called by opposition parties has crippled life in Nepal's capital region by shutting down schools, market and transportation.Police said on Tuesday that they have detained several supporters of the alliance of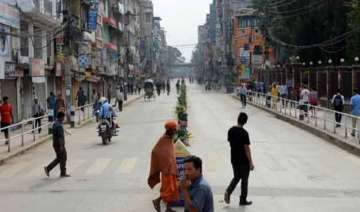 India TV News Desk
January 13, 2015 13:09 IST
Nepal: A general strike called by opposition parties has crippled life in Nepal's capital region by shutting down schools, market and transportation.
Police said on Tuesday that they have detained several supporters of the alliance of 30 opposition parties who were trying to enforce the strike. The strike was called in protest of government plans to bring out a draft of the new constitution next week without the agreement of the opposition parties.
Police beat some of the protesters with bamboo batons as they were trying to attack a passenger bus defying the strike.
It is common in Nepal for protesters to attack vehicles and shops that defy these strike calls, and people fearing these attacks generally shutter their businesses and stay off the streets.