Suicide bomber shot dead in Iran
Tehran, July 10: A "terrorist" suicide bomber was killed by Iranian police Tuesday in the port city of Chabahar just when he tried to enter the police headquarters, the state media reported.The man, wearing a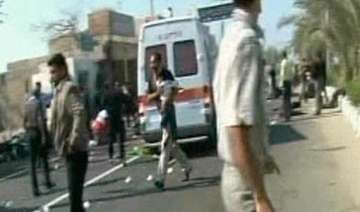 IANS
July 10, 2013 10:23 IST
Tehran, July 10:
A "terrorist" suicide bomber was killed by Iranian police Tuesday in the port city of Chabahar just when he tried to enter the police headquarters, the state media reported.
The man, wearing a suicide vest and carrying a grenade and a pistol, tried to enter the police headquarters in Sistan-Baluchestan province. But he could not succeed, reported Xinhua citing a provincial official.
As he shot at a guard deployed at the police headquarters, the bomber was immediately shot dead by another police officer.
No casualties were inflicted on the Iranian security forces, he said without detailing on the identity of the suicide bomber.
The Pakistan-based Sunni rebel group Jundallah has claimed responsibility for the deadly attacks against the Iranian security forces in the past years.