Ten members of a family gunned down in Pakistan
Islamabad:Ten members of a family were gunned down in Pakistan on Sunday in what police described as the outcome of a domestic dispute.Two children and four women were among those killed when gunmen opened fire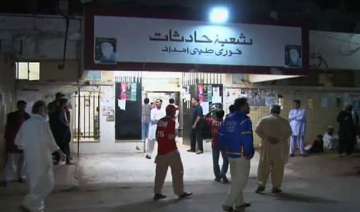 IANS
April 06, 2015 7:21 IST
Islamabad:Ten members of a family were gunned down in Pakistan on Sunday in what police described as the outcome of a domestic dispute.
Two children and four women were among those killed when gunmen opened fire on the family when they were asleep in their house in Tehsil Tangi of Charsadda of Khyber Pakhtunkhwa province, Geo News reported.
All 10 people, including the head of the family identified as Jamal, died on the spot.
Relatives told police that the incident appeared to have taken place over a dispute on a marriage proposal.
They accused Jamal's soon-to-be son-in-law Gul Ahmed Khan to be behind the murders, and claimed he had killed his own parents and two brothers four months ago.