Ten rarely known facts about late Princess Diana
New Delhi: On 31 August 1997, Diana, Princess of Wales died as a result of injuries sustained in a car crash in the Pont de l'Alma road tunnel in Paris, France.Today  is the 16th anniversary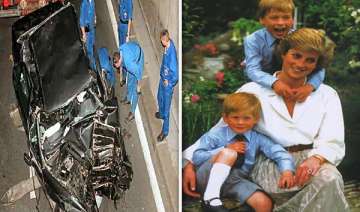 PTI
March 25, 2014 7:36 IST
New Delhi:
On 31 August 1997, Diana, Princess of Wales died as a result of injuries sustained in a car crash in the Pont de l'Alma road tunnel in Paris, France.
Today  is the 16th anniversary of Diana's death, hundreds of flowers, notes and other mementos swallowed up the gates of Kensington Palace, former home of "the people's princess" in London .
Visitors also headed to the Diana memorial fountain in Hyde Park, and to her family's estate, Althorp, where she was buried.
Princess Diana has never left the hearts or minds of her ardent admirers and today even after 16 after her death, her image is nearly as pervasive as when she was alive.
Here are ten interesting facts about this admirable, strong women: