Texas Executes Convicted Murderer
Huntsville, Texas, Jan 27: Convicted murderer Rodrigo Hernandez was executed Thursday night for the abduction, rape and strangulation of a 38-year-old woman in San Antonio 18 years ago.The lethal injection was carried out about 2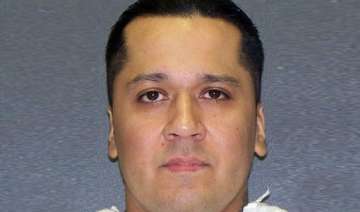 India TV News Desk
January 27, 2012 15:34 IST
Huntsville, Texas, Jan 27: Convicted murderer Rodrigo Hernandez was executed Thursday night for the abduction, rape and strangulation of a 38-year-old woman in San Antonio 18 years ago.

The lethal injection was carried out about 2 ½ hours after the U.S. Supreme Court rejected an appeal to block the punishment.

Hernandez, 38, told a chaplain as witnesses filed into the death chamber: "I'm ready. They better hurry up."

Moments later, when asked by the warden if he had a statement, Hernandez said: "I want to tell everybody, I love everybody. Keep your heads up. We are all family, people of God almighty. We're all good. I'm ready."

As the lethal drugs began taking effect, he said, "I'm gonna go to sleep. See you later. This stuff stinks, man." He then blurted out "almighty" before slipping into unconsciousness. He was pronounced dead 10 minutes later at 6:19 p.m. local time.

Hernandez was condemned for the slaying of Susan Verstegen, an employee of snack maker Frito-Lay. She was attacked at a storage area behind a supermarket and her body was found dumped in a garbage barrel behind a San Antonio church.

The 1994 slaying went unsolved for eight years until Hernandez, as a requirement for parole from a Michigan prison, had to submit a DNA sample that went into a national database. The DNA linked him to her death.

Advances in DNA technology more recently also tied Hernandez to the 1991 slaying of a 77-year-old homeless woman in Michigan.

Hernandez insisted he was innocent of both slayings, telling The San Antonio Express-News in a recent interview that his grandmother who raised him taught him to respect women.

However, he told a San Antonio police detective, George Saidler, who questioned him after the DNA match was discovered in 2002 that he was high on marijuana and alcohol and that he grabbed Verstegen, wrapped his hands around her neck when she struggled, drove off in her car and threw her body in the trash can when he realized she was not breathing.

"I never meant to kill her," Hernandez said, according to Saidler, who obtained the confession.

Verstegen's son, Charles Monney, who watched through a death chamber window near where Hernandez was belted to a gurney, said while he supported the death penalty he found no joy.

In his Supreme Court appeal, Hernandez's lawyers argued he had deficient attorneys early in his appeals who failed to address claims he had equally ineffective legal help at his trial when claims Hernandez was mentally impaired weren't pursued.

The high court has ruled mentally impaired people aren't eligible for the death penalty.

The arguments cited an Arizona case the high court now is reviewing where a condemned prisoner contends shoddy legal help in his initial appeals is a constitutional violation.

State attorneys told the justices the legal help early in Hernandez's appeals was not deficient because mental impairment issues were addressed with testimony from a mitigation specialist and a mental health expert at Hernandez's capital murder trial.