Tibet quake toll rises to 20; forecast of rain, snow
Beijing: The death toll in southwest China's Tibet Autonomous Region due to the devastating earthquake that hit neighbouring Nepal climbed to 20 today as the government continued to reach out to people in the affected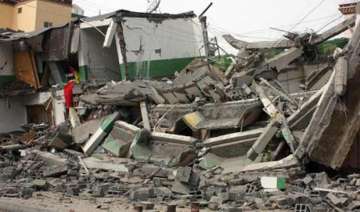 PTI
April 27, 2015 8:40 IST
Beijing: The death toll in southwest China's Tibet Autonomous Region due to the devastating earthquake that hit neighbouring Nepal climbed to 20 today as the government continued to reach out to people in the affected areas.  Besides, a total of 58 people there have been injured and four are missing, according to the Regional Disaster Relief Headquarters.
The 7.9 Richter Scale tremblor that struck Nepal on Saturday also affected parts of Tibet. The two border ports to Nepal were seriously affected.
Some 24,800 people have been relocated in Xigaze City. The highway linking Xigaze and the Zham Pass, the border port to Nepal, has been cut by landslides.