UN announces accepting nominations for first Nelson Mandela Prize
United Nations: The UN has said it is accepting nomination for the 2015 Nelson Rolihlahla Mandela Prize, and the list of laureates is expected to be announced in June."The UN is calling for nominations for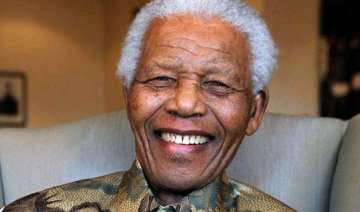 IANS
April 14, 2015 8:50 IST
United Nations: The UN has said it is accepting nomination for the 2015 Nelson Rolihlahla Mandela Prize, and the list of laureates is expected to be announced in June.
"The UN is calling for nominations for the 2015 Nelson Rolihlahla Mandela Prize," UN spokesman Stephane Dujarric said at a daily news briefing here on Monday. "Nominations for the 2015 prize will be accepted until 18 May 2015. Details on submission of nominations can be found online, on the UN website," Xinhua reported.
It is expected that the list of laureates will be announced in June 2015, with the first prizes awarded at UN Headquarters in New York during the commemoration of Nelson Mandela International Day on July 18.
In June 2014, the UN General Assembly established the "United Nations Nelson Rolihlahla Mandela Prize" as a tribute to the achievements and contributions of the late South African leader.
"Our best tribute to Nelson Mandela is not found in words or ceremonies -- but in actions that take up the torch he passed to us," UN Secretary-General Ban Ki-moon said in his remarks to the General Assembly in June last year, following the adoption by consensus of the resolution establishing the prize.
The 193-member General Assembly has a proud record of acting against apartheid -- and for Nelson Mandela.
"From the early days of sanctions to the more recent declaration of 18 July as Nelson Mandela International Day, this Assembly has placed itself on the right side of history - - with the people who need us most," Ban said, stressing the world organization will forever be inspired by his example. "Today, the Assembly took another step forward in carrying on Nelson Mandela's lifelong work through this meaningful prize."
By the terms of the resolution, the Assembly asked the secretary-general, in consultation with the President of the Assembly, to establish within six months of adoption of the text the criteria and procedures for bestowing the prize.