US brewery seeks to end controversy over Mahatma Gandhi beer label
Washington: A US brewery that drew flak over its use of Mahatma Gandhi's images on beer cans and bottles has sought to end the controversy in the best possible way, saying it also received threats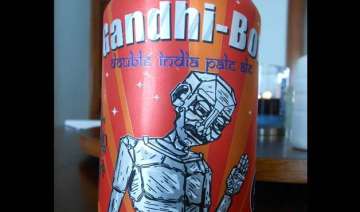 PTI
January 09, 2015 19:00 IST
Washington: A US brewery that drew flak over its use of Mahatma Gandhi's images on beer cans and bottles has sought to end the controversy in the best possible way, saying it also received threats for hurting sentiments.
"After threats and some truly hurtful assumptions about the incredibly caring people that work for New England Brewing Company, we are working on finding the best way to amend this situation in a manner that is respectful both to those who are offended as well as a way that is manageable for our small company," the company said in a post on its Facebook page.
The Connecticut-based New England Brewing Company is a small company with only five full-time employees.
It apologised last week for hurting sentiments of people of India for using the image of Gandhi on its beer cans and bottles. The apology came after a case was filed against the company in India.
The brewery had claimed its intention was to pay "homage" to and celebrate the apostle of peace through the beer brand called 'Gandhi-Bot', which the company says is an intensely hopped double India pale with a blend of three varieties of American Hops.
"Until this week we've never received a single negative comment regarding the label but after a recent article, it has come to our attention that the artwork has clearly offended some people.
"We are a very small company that is passionate about brewing beer and have never had any intention to offend anyone but rather share what we do with anyone interested," the company said in its Facebook post yesterday.
The brewery said it simply wanted to include the things and people in the world that have inspired it and find a way to incorporate them into its work.
"We have a great appreciation for the non-violent benevolent ideas that Gandhi taught. The fact that we consume or make alcohol in no way negates the value we find in what he taught," it said.
In an earlier post, the company asked its supporters and fans to refrain from "arguing on our page with those who may be upset by" its label.
"We want to do our best to be culturally sensitive and respectful," it said