Hold your horses: US cautions India against boosting trade with Iran
New Delhi: The United States has cautioned India and other countries to not to actively engage with Tehran before the nuclear deal between Tehran and world powers is signed.US Under Secretary Wendy Sherman said on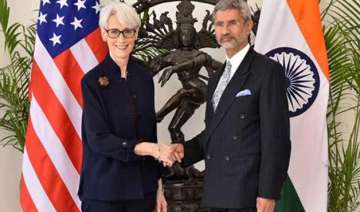 India TV News Desk
April 30, 2015 15:04 IST
New Delhi: The United States has cautioned India and other countries to not to actively engage with Tehran before the nuclear deal between Tehran and world powers is signed.
US Under Secretary Wendy Sherman said on Wednesday, ""I would say 'hold your horses'. We are not quite to an agreement yet."
Her comment was aimed at India and other buyers of Iranian oil that want to increase their trade ties with the Gulf Nation.
Diplomats are negotiating to give final touch to April 2 framework agreement that is aimed to curb Iran's nuclear programme.
However, the United States has said that further tough negotiations lie ahead and no guarantees that a deal will be secured by a June 30 deadline.
Sherman, who has been negotiating on behalf of the United States in the long-running Iran nuclear talks, said, "We understand that nobody wants to be last in line, everybody wants to be first in line, if the sanctions do get relieved."
Amid the negotiations, Tehran has been lobbying to boost its trade with India, China and other countries.
An Indian delegation recently visited Iran to renew talks on seeking development rights of Farzad B gas field and enhancing oil supplies if a deal is clinched by the end of June.
A delegation led by Iran's oil minister, Bijan Zanganeh, visited China earlier this month seeking to mend fences with Chinese energy firms to get oil and gas development projects going and discuss oil sales.