US Congressional Committee reduces Pakistan aid by USD 65.8 million
Washington: A key Congressional committee has reduced the US aid money to Pakistan for the year 2015 by USD 65.8 million as proposed by US President Barack Obama in his annual budget.Approving State Department's 2015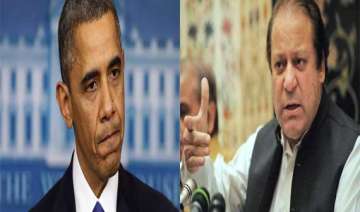 PTI
June 21, 2014 8:20 IST
Washington
: A key Congressional committee has reduced the US aid money to Pakistan for the year 2015 by USD 65.8 million as proposed by US President Barack Obama in his annual budget.
Approving State Department's 2015 budget of USD 48.285 billion, the powerful Senate Committee on Appropriations approved a total of USD 959.7 million for Pakistan which is USD 65.8 million less than Obama's request of USD 1.03 billion.
Of this, amount up to USD 816 million for assistance programmes, an official statement said.
The bill increase funding for polio prevention programmes to USD 59 million, including USD 7.5 million in Afghanistan and Pakistan to support a multilateral campaign to eliminate the disease, which is USD 9 million above the President's request, it said.
The Committee has also requested the Secretary of State to consult with the Committee on plans for winding down the Office of the Special Representative for Afghanistan and Pakistan (SRAP).
It supported the reincorporation of SRAP within the Bureau of South and Central Asian Affairs.
The Senate Appropriations Committee directed that programmes in Pakistan target unemployment, illiteracy, and disenfranchisement among the most impoverished individuals and communities.
Recognising Malala Yousafzai's courageous advocacy for girls' education, the bill provided USD 3 million in addition to increase the number of scholarships under the Merit and Needs-Based Scholarship Program.
No less than 50 per cent of the scholarships should be awarded to Pakistani women, it said.
Asking the State Department to ensure that the US aid money is not used in the Iran-Pak gas pipeline, the Senate Appropriations Committee urged the Secretary of State to make the release of Warren Weinstein who was kidnapped by extremists in Lahore in 2011, a priority in the bilateral relationship with Pakistan.