US Congressman Crowley to travel with Obama to India
Washington: United States Congressman Joe Crowley, former co-chair of Congressional Caucus on India and Indian-Americans, would travel to India with President Barack Obama."It is an honour to join President Obama on this trip and I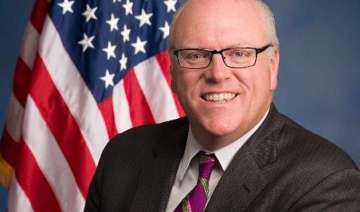 PTI
January 21, 2015 8:00 IST
Washington: United States Congressman Joe Crowley, former co-chair of Congressional Caucus on India and Indian-Americans, would travel to India with President Barack Obama.
"It is an honour to join President Obama on this trip and I look forward to robust discussions on how we can open the next chapter in US-India relations," Crowley said in a statement.
Last week, Senator Mark Warner, Co-Chair of the Senate India Caucus had announced that he too would be travelling to India as part of the presidential delegation.
"I strongly believe that the United States-Indian relationship should and will serve as a key building block of US foreign policy in the decades ahead. Working together, the United States and India can be a transformational force in meeting global challenges," Crowley said.
"The principles of India's democratic constitution serve as a shining example for the world, and what better time for the President of the United States to make this historic visit than to join India in celebrating its Republic Day," said the nine-time Congressman rpt Congressman, known as one of the best friends of India in the US Congress.
According to his office, Crowley will depart on Saturday with Obama to Delhi, where the delegation will attend Republic Day events as well as meet with Indian officials to discuss strengthening and expanding the US-India strategic partnership.
Crowley, who served as co-chair of the India Caucus in the 112th and 113th Congresses, is a recognised leader on Indian issues in the House of Representatives.
Formed in 1993, the India Caucus is a bipartisan group of members that is dedicated to championing strong ties between the US and India and supporting the Indian-American community.
During his term, Crowley has helped grow the India Caucus to become one of the largest caucuses in the House and initiated several key events, including the first-ever Congressional Diwali celebration in 2013.
Crowley also led the Democratic whip effort as part of the Congressional push to secure the enactment of the US-India Civil Nuclear Agreement, a landmark agreement that brought US-India relations into the century after decades of distance during the Cold War.
A recognised leader in Congress on issues related to the Hindu and Sikh-American communities, Crowley spearheaded a multi-year, successful effort to convince the federal government to begin collecting data on hate crimes allegedly committed against Sikh-Americans and Hindu-Americans, an important issue brought to the national spotlight by the massacre of Sikhs worshipping at a temple in Oak Creek, Wisconsin.
He is also the leading voice calling for an end to the presumptive ban on Sikhs serving in the US military.