US 'greatly concerned' over release of Lakhvi: Top official
New Delhi:  Asserting that there is no good or bad terrorist, a top American diplomat today said the US was "greatly concerned" over the release of Mumbai attacks mastermind Zaki-ur-Rehman Lakhvi and had sought his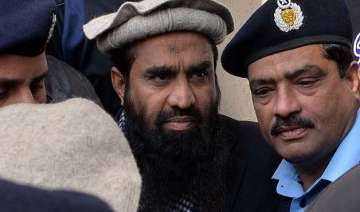 PTI
April 29, 2015 22:39 IST
New Delhi:  Asserting that there is no good or bad terrorist, a top American diplomat today said the US was "greatly concerned" over the release of Mumbai attacks mastermind Zaki-ur-Rehman Lakhvi and had sought his re-arrest.  
Assistant Secretary of State for South and Central Asian Affairs, Nisha Desai Biswal, said Secretary of State John Kerry had personally called up authorities in Pakistan seeking the re-arrest after his release earlier this month.  
However, she said Pakistan has lost more lives to terrorism than any other country and that Islamabad has "redoubled" its effort to fight the menace after the attack on a Peshawar Army school.
"We were greatly concerned by the release of Mr Lakhvi," she said, addressing a small group of journalists and students at the University of Chicago Center here.  
Biswal said the release was something that the State Department had been hoping to avoid and it had consistently impressed upon their counterparts in Islamabad the need for those responsible for Mumbai terror attacks to be brought to justice.
"That is the goal we share with India. When this release occurred, the Secretary of State, in fact, personally also made a phone call to urge that efforts be made to re-arrest and ensure that he does not roam free," she said.  
Biswal said the US continues to support India's efforts to bring the Mumbai attackers to justice to seek justice to all those who died in that attack which includes American citizens as well.
"We also continue to impress upon all friends across the region that there are not such thing as good terrorist or bad terrorist.
There are only terrorist and support of terrorist of any kind is not acceptable," she said.  The Indian-origin American official said the attacks in Peshawar brought home the devastation in ways that are just incredibly powerful.
"I think you have seen redoubled efforts in Pakistan as well to deal with this issue of terrorism," she said, adding that US was "of course" not satisfied by the progress made.