US Hunger Strike: Prisoners on hunger strike close to death in California
Dozens of California state prison inmates have been staging a hunger strike for more than seven weeks, prompting a federal judge last week to approve a request to force-feed them if necessary.Officials with the California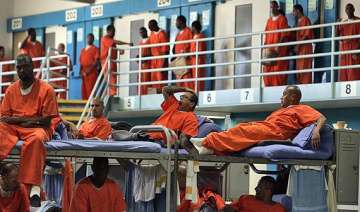 India TV News Desk
August 29, 2013 10:05 IST
Dozens of California state prison inmates have been staging a hunger strike for more than seven weeks, prompting a federal judge last week to approve a request to force-feed them if necessary.
Officials with the California Department of Corrections and Rehabilitation said on Tuesday that 92 inmates have been refusing prison-issued meals since July 8, when nearly 32,000 of the system's 133,000 prisoners began the hunger strike.
The inmates are protesting the holding of gang leaders and other violent inmates in solitary confinement that can last for decades.
"We want to be prepared. Rather than wait for the situation to become critical, we wanted to have that order in place should it become necessary to assist in the refeeding of an inmate," said Michael Stainer, Acting Director of Division of Adult Institutions for CDCR after a judge approved the force-feeding measures.
Dr. Steven Tharratt, director of medical services for the federal official who oversees medical care for California's prisons, said if the state employs force-feeding, it's most likely to be done by pumping nutrient-enriched fluids into the bloodstreams of unconscious inmates.
State prison officials have struggled to deal with a hunger strike that started last month and, at its height, involved thousands of inmates.
There are 46 inmates who have refused anything more than water, vitamins and electrolytes since July 8 to protest the yearslong isolation of gang leaders.
Marie Levin, the sister of Pelican Bay SHU inmate and hunger strike organiser Ronnie Dewberry, spoke of her dismay at the treatment of her brother and the other prisoners.
"My brother is willing to go to these extremes because of the conditions they are being treated under. The inhumane treatment has been horrendous all these decades.
And he's saying that now we're going to do something about it. It's like, enough is enough," said Levin.
Monday's order by US District Judge Thelton Henderson of San Francisco could come into play.
He has given state officials permission to disregard inmates' do-not-resuscitate directives if the officials believe the inmates acted under duress, for instance under threats by gang leaders who organised the hunger strike on behalf of inmates held indefinitely in California's Security Housing Units.
Many of the hard core strikers are likely to reach crisis stage in the next two weeks as they reach 60 to 70 days without significant nutrition, added Dr Tharratt.