US wine experts develop Miracle Machine, which can convert water into wine in 3 days
Los Angeles:  Wine experts from California have developed a 'Miracle Machine' that can transform water into wine in just three days.One can make use of this machine at home too. The Miracle Machine is the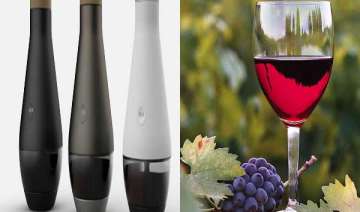 India TV News Desk
March 08, 2014 6:30 IST
Los Angeles:
  Wine experts from California have developed a 'Miracle Machine' that can transform water into wine in just three days.
One can make use of this machine at home too. The Miracle Machine is the brainchild of two wine industry veterans Kevin Boyer and Philip James.
The makers of the machine claim that it is the world's first affordable accelerated wine making device for the home and has been designed as a table top appliance.
It is expected to come with wine making kits, which will contain grape concentrate, yeast, and other ingredients needed for various types of wines.